Link to this page: https://www.socialistparty.org.uk/issue/801/18241
From The Socialist newspaper, 5 March 2014
Editorial from the Socialist issue 801
Need for new mass workers' party is undeniable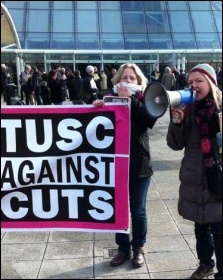 TUSC candidate Lois Austin speaking outside the Labour Party special conference, 1.3.14 (Click to enlarge)
After a conference that lasted just two hours... it was gone! Labour's Saturday 1 March special conference actually took place in the very constituency where Kier Hardie, the first Independent Labour Member of Parliament, was first elected in 1892.
But by adopting the Collins Review, Labour effectively ended any lingering pretence of an organised trade union presence in the party that the unions created over a century ago.
But union members will be exasperated at the apparently relentless denial of the union leaders at what Collins represents. Incredibly, because of their support for Collins, there was bigger opposition among delegates from the threadbare constituency section than the unions!
Saturday's conference is the end of a process of transforming Labour into yet another mainstream pro-market party that started with Kinnock expelling Militant, Smith bringing in 'one member one vote' and Blair ditching the socialist Clause 4.
Tame party
The Labour leadership wants to finally cut off all avenues for internal opposition should they come to government, even from the tame party that now exists.
We've already had three years of 'Town Hall' Milibands and Balls passing on brutal Con-Dem cuts, while disciplining the few Labour councillors prepared to resist.
It also cannot be separated from Miliband shamefully calling in the police to undemocratically undermine the Falkirk parliamentary selection contest because Unite had been successful in recruiting new members to the party - the party it donates £3 million a year to! Len McCluskey reportedly got a rousing reception from delegates when he called for support for sacked Ineos convenor Stevie Deans. They had, however, also given a standing ovation to Miliband.
But the starting point for Stevie's dismissal was Miliband's attack on him at Falkirk where he was the constituency chair! Scandalously, Stevie's fellow convenor Mark Lyons, the national vice-chair of Unite has also now been sacked.
Yet Len can say: "My union was one of the first to embrace the principle of reform when Ed Miliband proposed it last summer..."
GMB leader Paul Kenny, who last autumn was standing out in opposition to Miliband said: "My union will be supporting these proposals wholeheartedly... trying our damndest to make them work."
And in an article entitled, 'We are grabbing this opportunity with both hands', Unite's political director Jennie Formby promises: "The hard work begins now.
"During the course of the five year transition proposed by Collins, Unite will be striving to persuade our members that there is a place for them in the Labour party."
What is this based on? Jennie writes: "People want a manifesto that gives expression to their hopes and offers real change to build a strong economy and a fairer society.
"So Ed, an appeal - release your inner radical, tell us more about how you will deliver the jobs, homes and hope our country needs so we really can persuade the 6.4 million trade unionists, the ordinary men and women who are the backbone of our country, that Labour is their party."
Jennie Formby's article only brought exasperation from Unite members who reflect many members' feelings: "It's no longer 'our party'.
Ordinary members have little say over policy. The elite do as they please, as happened in the many stitch-ups for safe parliamentary seats and as happened at Falkirk... Policy shouldn't be a matter of pleading with Ed to release his 'inner radical'."
Accept austerity
As the Socialist has pointed out many times, both Eds have already told us that they accept Tory austerity - and capitalism! The day after the special conference, New Labour education spokesman Tristram Hunt was on BBC confirming that Labour will retain Michael Gove's schools policies such as Free Schools and accelerated academisation: "I don't think you want to waste political energy by undoing reforms that, in certain situations, build rather successfully on Labour policy."
It is also revealing that Tony Blair praised Miliband and even 'Dr Death' David Owen, the key traitor who left Labour to set up the SDP, has publicly announced a financial donation to Labour precisely because Collins was passed - by your friends will you be known!
A new party based on the unions, with their resources on an unashamedly fighting anti-cuts programme could absolutely transform UK politics.
Even in the short term it would have more effect on Labour policies than the capitulation by the union leaders at this conference.
As Hunt's comments shows, all that has been achieved is to embolden the most right-wing elements in Labour.
Instead of wasting yet more members' subs on trying to convince them to join pro-austerity Labour, many union activists understand that there now has to be a debate and discussion about how a new mass party can be formed that stands full square against austerity and for trade union rights.
There would be outrage from members if their leaders bow to pressure and reduce the affiliation they donate to Labour yet merely give it through the backdoor in donations.
The great majority of the union leaders complied with Collins because they are afraid to draw the necessary conclusions from what these changes mean.
They should look to France where Miliband's equivalent, François Hollande has pursued vicious austerity.
He has disappointed the working class completely and is officially the most unpopular president in the history of the fifth republic.
In the US the unions have funded Obama and the Democrats but significant sections are starting to work with the left, including Socialist Alternative, in the fight for a $15 an hour minimum wage.
And they should look to South Africa where the working class in struggle is drawing conclusions and taking important steps in building a new mass political voice.
Here the Trade Unionist and Socialist Coalition is planning the biggest left of Labour stand in generations and already involves the RMT and key trade union fighters. Join the fight for a working class political voice by getting involved today.
Donate to the Socialist Party
Coronavirus crisis - Finance appeal
The coronavirus crisis has laid bare the class character of society in numerous ways. It is making clear to many that it is the working class that keeps society running, not the CEOs of major corporations.
The results of austerity have been graphically demonstrated as public services strain to cope with the crisis.
The government has now ripped up its 'austerity' mantra and turned to policies that not long ago were denounced as socialist. But after the corona crisis, it will try to make the working class pay for it, by trying to claw back what has been given.
The Socialist Party's material is more vital than ever, so we can continue to report from workers who are fighting for better health and safety measures, against layoffs, for adequate staffing levels, etc.
Our 'fighting coronavirus workers' charter', outlines a programme to combat the virus and protect workers' living conditions.
When the health crisis subsides, we must be ready for the stormy events ahead and the need to arm workers' movements with a socialist programme - one which puts the health and needs of humanity before the profits of a few.
Inevitably, during the crisis we have not been able to sell the Socialist and raise funds in the ways we normally would.
We therefore urgently appeal to all our viewers to donate to our special coronavirus appeal.
---
In The Socialist 5 March 2014:
---
Socialist Party news and analysis

Pay us a living wage now!

Need for new mass workers' party is undeniable

Government condemns millions to housing misery

NHS in crisis: Stop Hunt's hospital closure plans

Fight the government's vicious sanctions regime

Them & Us
---
International socialist news and analysis

Ukraine crisis: Ruling elites foster division and conflict

Northern Ireland rocked by 'on the runs' crisis
---
International Women's Day

The miners' strike changed women's lives
---
Socialist Party workplace news

Determined Doncaster care workers in 7-day strike

Wales: Unison branch challenges Labour with no-cuts budget

Support strike action against legal aid cuts

Leeds council workers discuss cuts fightback

Train drivers vote for action at Northern Rail

Cleaners strike at London college
---
Readers' comments and reviews

Nigeria's battle for a mass workers' party

Letter of protest to the BBC

Union question time - Labour has no answers
---
Socialist Party reports and campaigns

Action against vicious council cuts

Police spying ends lives - end it!

Fighting youth low pay (and security bullies)

Calderdale and Huddersfield: People ready to defend A&Es

Barton Moss protesters say no to fracking

Oppose the EDL in Worcester
---
Home | The Socialist 5 March 2014 | Join the Socialist Party
Subscribe | Donate | PDF | ebook
---