Link to this page: https://www.socialistparty.org.uk/issue/807/18462
From The Socialist newspaper, 16 April 2014
Profit vultures out of NHS
Support striking Doncaster Care UK workers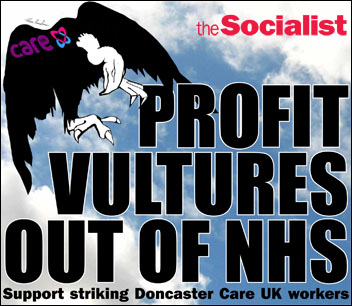 The Socialist issue 807: Profit Vultures out of the NHS! Support the striking Doncaster Care UK workers, photo Socialist Party
The Con-Dems are destroying our NHS. Alongside cutting 5,000 jobs, their privatisation drive threatens the very existence of a national health service. Health union Unison warns that the government is planning to privatise 30 hospitals driven into 'financial difficulties' through cuts, profiteering pharmaceutical companies and rip-off PFI schemes. The Mirror revealed in February that private health firms with Tory links have been awarded contracts worth nearly £1.5 billion. Prominent among them is Care UK. But while the Tories promote these blood-sucking parasites, workers are fighting them. This speech was made by a striking Doncaster Care UK worker at the miners' strike 30th anniversary rally in Edlington, Doncaster on 5 April.
"I'm proud to say I was born in Edlo. I was a teenager in the miners' strike and I can remember the hardship a lot of people suffered because of it. But I also remember how everyone stuck together and looked out for each other. It's things like that that makes me proud to be part of this today.
Just as the mining community fought Thatcherism against pit closures, we long-time NHS employees are standing up against the privatisation of the NHS. Unfortunately for us who care for people with learning disabilities it is already too late. The contract was up for tender and the mainly Labour council awarded the contract to the inappropriately named company Care UK. Shame on Doncaster council!
Within just a few weeks of taking the contract over, they informed us that for the contract to be sustainable, reductions in our terms and conditions would have to be made. For some of us this would mean losing £500 a month, £6,000 a year, so some are facing losing their homes.
What this company has neglected to make public is that a substantial part of their budget goes straight to their shareholders in profit. Can't pay their staff, but can pay their shareholders!
These people are not just making profit off of us workers but are making profit off of the most vulnerable people in our society, our service users. This is shameful in any civilised society.
We have been striking and will return to the picket line, standing united. We are doing this with a heavy heart but we are resolute that what we are doing is morally the right thing to do.
The support we have had from the unions and other affiliations and the general public has been overwhelming, and all recognise we are fighting against the greed of those profiteering capitalists who have no conscience whatsoever.
What we haven't had is any recognition from any of our local MPs. No acknowledgment of our plight. [Doncaster Labour MP Caroline Flint was in the crowd]. The leader of the Opposition, Doncaster MP Ed Miliband, has not uttered a word of support.
Shame on them!"
The Care UK workers, members of Unison are taking further strike action over Easter, with a demonstration on 19 April. Please send messages of support to admin@unison-dab.org.uk and donations/cheques made out to: "Doncaster, District & Bassetlaw Health Branch" and send to: Jenkinson House, White Rose Way, Doncaster, DN4 5GJ.
Why not click here to join the Socialist Party, or click here to donate to the Socialist Party.
---
In The Socialist 16 April 2014:
---
Socialist Party election campaigning

Help TUSC offer a no-cuts alternative on 22 May

Election appeal: help us make history

More cuts and another resignation in Southampton
---
Socialist Party news and analysis

Profit vultures out of NHS

Ending MPs' expenses scandal requires socialist change

Con-Dems escalate housing crisis

Tamiflu scandal exposes bloodsucking big pharma

Pit closures: Final act of Tory vandalism

Them & Us
---
International socialist news and analysis

40 years of the Committee for a Workers' International

India: massive election process could end in turmoil
---
Socialist Party workplace news

Gains for left on NUT executive

Stop the education catastrophe!

Health workers vote to fight government pay cuts

Strikers shut cinema in battle for living wage

Let down by Welsh Labour

RMT: Put the tube strike back on and escalate

Workplace news in brief
---
Socialist Party reports and campaigns

Beating Bedroom Tax evictions

NUS conference: sip tea or put up a serious fight?

Goldthorpe: Anger at Thatcher's destruction of mining

Anti-austerity demonstration called in Salford

May Day greetings with the Socialist
---
Readers' comments

Hard loads - and a fightback - on the bins

Working on zero-hour contracts

Disgusted at politicians' big business links
---
Home | The Socialist 16 April 2014 | Join the Socialist Party
Subscribe | Donate | PDF | ebook
---