Link to this page: https://www.socialistparty.org.uk/articles/18810
Posted on 23 June 2014 at 12:54 GMT
Firefighters in good spirits during Saturday's strike
Greater Manchester
Paul Davies, FBU Salford branch secretary commented on Saturday's phase of the FBU strike action:
It's been really good. As with the last strike it's been absolutely solid across the brigade and across Greater Manchester county. We had a big rally in Piccadilly Gardens in Manchester on the 12th in the afternoon, we had close to 300 members turn up to that one, and the bakers' and various other unions as well. It had gone really well on the day so everyone there was in high spirits, and like I say the strike was solid and we had a really good day.
Between now and the 10th July when lots of other unions are out, if we don't get any movement from the employers then I think we should be looking at making that day our next strike date, starting on that date or encompassing part of that date, and going out for 48 hours. We've done a 24-hour one so that should obviously be the next step. And then looking further ahead, there are some dates in September that we could look at taking some sort of coordinated action on, and maybe going out for even longer than on 10th July.
Birmingham
Hundreds attended the Fire Brigades Union rally on Saturday in Birmingham's Victoria Square. It marked the latest escalation by the FBU in its dispute with the government over pensions, yet again shining a light on the government's disregard for both workers and the safety of the public for all to see.
Among the speakers was Dave Nellist, TUSC chair and Socialist Party member. In his well-received speech, Dave stressed that while it was a Tory-LibDem coalition that was handing out the current austerity measures, we are in fact being presented with a 'three party coalition', including Labour. Dave reminded the crowd that with the Labour Party's apparent determination not to be outdone by the Conservatives and the Liberal Democrats, it has committed to match coalition austerity measures if elected next year, reiterating the urgent need for a political alternative as represented by a new mass workers' party.
On the subject of strike action, Dave underlined the fact that, as experience has taught, isolated strike action will not be enough if we are to seriously oppose all the government's attacks. Needed is open coordination between all unions in organising a 24-hour general strike in which the FBU would be a welcome and vital part, as an effective method to oppose every proposed measure in the politicians' assault on the working class.
Present was a Birmingham Socialist Party stall organised by both central and south east branches on the issue of the living wage, which received generous donations and vocal support from both FBU workers and members of the public.
Theo Sharieff-Winston, Birmingham Central Socialist Party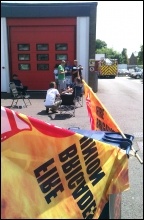 FBU picket in Huntingdon, 21.6.14, photo R Cossey-Mowle
Huntingdon
FBU pickets in Huntingdon on Saturday were upbeat but weary from this long dispute. A letter has been produced for members of the public to sign which will be sent on to MPs. The firefighters had been were invited to a strike rally being held in London.
Leaflets were handed out for the National Shop Stewards Network conference on 5th July.
Robert Cossey-Mowle
Why not click here to join the Socialist Party, or click here to donate to the Socialist Party.
---