Link to this page: https://www.socialistparty.org.uk/issue/828/19459
From The Socialist newspaper, 8 October 2014
NHS - The black hole
Stop the cuts, scrap rip-off PFI privatisation schemes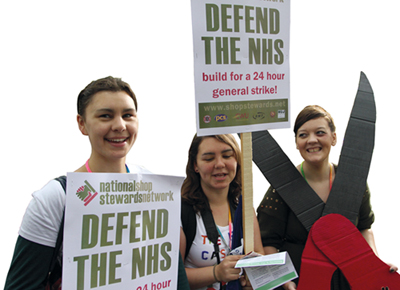 An NHS worker
The National Health Service (NHS) is mired in a deep financial crisis and in a desperate attempt to highlight this a body of health professionals have written an open letter to the government.
A conservative estimate says the NHS shortfall amounts to a black hole of £30 billion but others put this figure closer to £50 billion.
We see desperate patients in pain and distress waiting for appointments for scans and treatment and when frontline staff complain to management we are fobbed off or told 'you must do more work'.
We have seen our own pay frozen in the face of the increasing demands being put on us. Many more of us face being demoted and downbanded as fat cat private companies continue to leach off our NHS.
Privatisation
The Tory funding freeze, which they deceitfully call 'ringfencing the NHS budget', is one factor behind rising NHS debt.
However the introduction of Private Finance Initiatives (PFI) into the NHS and their rapid expansion by New Labour in the late 1990s created a financial time bomb which is now about to detonate.
When PFI was being rolled out the Labour party allowed consortia of building companies and financial houses to flood into the NHS to build and refurbish hospitals at extortionate rents, spanning 30 years. Several NHS trusts have gone bankrupt as result of PFI debt.
We are also seeing a rise in the privatisation of core health care services, and NHS trusts are paying huge sums to buy in services from private companies who offer less. On top of this there is the added financial burden of administering these contracts. The state of hospital meals post-privatisation is a warning. They are so dire that this issue has hit the headlines.
The privatisation of public services leads to rising costs, worse services and increased charges for patients. Hospital bosses are now talking of charging patients £75 a night for the 'hotel costs' of staying in a hospital. In the USA 62% of all bankruptcies are as a result of medical bills.
The NHS staff appeal to the Tories will fall on deaf ears. The Tories will carry on with their policy of freezing the NHS budget if they get re-elected.
The Labour party pledges £2 billion in 'new money' to the NHS but this is woefully inadequate considering the funding black hole. Whichever mainstream party gets elected the tranche of cuts and the damage wrought by the privatisation of services will continue.
Nurses and other NHS workers are demoralised and desperate. For the first time in over 30 years unionised health workers are coming out on strike over our pay on 13 October. Industrial action is the most effective measure we can take that will force this government to take the future of the NHS seriously.
Half a day's action can be a starting point to escalating the industrial action in co-ordination with the other trade unionists in the public sector who provide essential services for our patients.
Our patients need us to step up and fight to prevent the total destruction of the NHS. If we can't fight for ourselves let's do it for them!
Why not click here to join the Socialist Party, or click here to donate to the Socialist Party.
---
In The Socialist 8 October 2014:
---
Socialist Party news and analysis

We need ideas to change the world

NHS - The black hole

UK - A tax haven for the super-rich

Them & Us
---
International socialist news and analysis

South Africa: "A workers' party must emerge"

Middle East: Repel IS and Western imperialism

Coordinated attacks on Hong Kong movement

Ebola crisis: Consequence of profit before health

Stop corporate plunder of Bangladesh energy
---
Socialist Party workplace news

We can beat the pay freeze!

Public sector: why we have to strike

RMT tube workers join October action

Teachers: Pay rise? What pay rise?

Support Care UK day of action

Sheffield: Green workers red with anger

M25 maintenance workers protest
---
Socialist Party reports and campaigns

Training tomorrow's trade union militants

Finance to fight for the future

School students organise disabled rights meeting

Ice cream, you scream, we all scream for £10 now!
---
Readers' comments

Exhaustion from buzzer to buzzer

Bedroom Tax: Still making tenants' lives hell

Scotland: Workers need a new mass party

Correction: Labour's private health links are worse!

Thatcher's enemies within
---
Obituary

Andrew Price: Fighter, teacher, party campaigner
---
Home | The Socialist 8 October 2014 | Join the Socialist Party
Subscribe | Donate | PDF | ebook
---