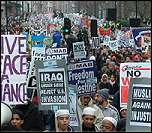 Anti-war demo 15 Feb 2003, photo Paul Mattsson
FIFTEENTH OF FEBRUARY marks an historic day of anti-war protest worldwide. Never before have we seen a mass anti-war movement of this character before a war even starts. It is even bigger than the movement against the Vietnam War in its early stages.
This powerful movement has already terrified and partly checked the actions of the warmongers. However, US and British imperialism's vital interests, their desperate lust for oil, is propelling them to embark on this bloody war despite the huge level of opposition.
To build a movement that can derail Bush and Blair's 'war on terror' we need to link the case against the war to all the other issues that make working-class people angry against New Labour and the capitalist system they uphold. If a war starts, it is only through sustained, organised mass civil disobedience – winning the support of wide sections of the working-class in Britain, including stoppages and strikes – that it could be stopped.
Following on from the successful demonstrations we believe that the anti-war movement has to be built at local level especially, in order to mobilise and co-ordinate such a level of protest.
Parallels have been drawn with the effective civil disobedience of the anti-poll tax movement, which mobilised 18 million non-payers, defeated the hated tax and eventually brought down Margaret Thatcher.
The effectiveness of the anti-poll tax campaign was not just in the huge demonstrations that were organised but also in the fact that there were over a thousand local anti-poll tax unions.
It was in particular the local anti-poll tax unions that maintained the propaganda and information drive that built up the 18 million non-payers and also defended those threatened with jailings, organised resistance to bailiffs and warrant sales and organised action in the workplaces to defend non-payers.
Through such consistent activity there developed an unshakeable confidence to continue the struggle until the tax was beaten.
Civil disobedience

Anti-war demo 15 Feb 2003, photo by Paul Mattsson
WHILST THERE are differences between the anti-poll tax struggle and the anti-war campaign, certain lessons need to be drawn and acted upon now.
Democratically convened anti-war coalitions need to be established in as many localities as possible. Once established, we believe these local groups should establish links with local trade unions, colleges, NUS and community organisations to build a network of anti-war activists that can organise sustained civil disobedience in the workplace, in the colleges and in the communities.
In particular we believe some of the most effective action will be organised through the workplaces. To achieve this, anti-war activists need to link the case against the war with other issues, like the increasing numbers of working people taking strike action against New Labour's cuts, low pay and privatisation.
The firefighters have concluded through their strike action that New Labour can find billions for its bloody war but not millions for their justified claim. Thousands of firefighters are refusing to pay any more money from their union subs to the Labour Party. Also, railworkers in Motherwell, Scotland have made a brave stand in refusing to transport war materials.
With the increasing numbers of working people taking strike action against New Labour's cuts, low pay and privatisation, there should be a linking together of all these campaigns into an anti-war and anti-government movement.
New Labour is a party of big business, which spends its time protecting the profits of British Petroleum and their ilk, whilst destroying public services and attacking the living conditions of working-class people.
We need to get rid of New Labour and establish a new mass party that stands up for workers' interests.
The Socialist Party is fighting for such a party – a party that brings together the anti-war movement, trade unionists, anti-privatisation campaigners and the anti-capitalist movement to achieve the goal of system change that could abolish the threat of war and terror once and for all.