Link to this page: https://www.socialistparty.org.uk/issue/850/20411
From The Socialist newspaper, 1 April 2015
The new look Socialist - thumbs up from readers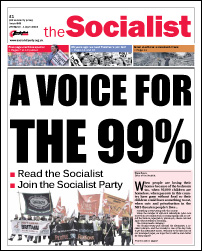 The launch of the redesigned Socialist has proved a hit among readers and sellers. Socialist party members in Walthamstow, east London, sold 46 copies on a public sale last Saturday using the back page feature on cuts in the National Health Service.
Here is a selection of readers' comments:
Love it!
It looks lively and 'together'.
Heather Rawling
Excellent. Pass on my thanks to the team with a special mention to Suze (who designed the layout). Love the page numbers!
No doubt plans are well under way for the election week issue....a plea from me for the simplest front page headline poss. Skip the word 'austerity'! I'd welcome NO MORE CUTS! VOTE TUSC!
Dave Gorton
I was delighted to receive the newly redesigned Socialist. I'm particularly impressed by the sharp layout on the features, the letters section and the little details around the page numbers.
Inspired by this excellent new look and with a big NHS demo approaching I doubled my sales target to 20. The paper and TUSC leaflets got an excellent reception on the demo, and I sold 15 papers. The previous day I sold five at an RMT union protest.
But getting to 20 hasn't stopped me. At an election public meeting another two sold and from visiting potential new party members, I've reached 27 sales so far and still going.
It's important to turn these sales into regular buyers of the paper and hopefully new members. All the contacts visited get a subscription form and an invite to the next branch meeting.
Iain Dalton, Leeds
Here's a fighting fund donation to support the great new design of the Socialist
Clive Dunkley
Why not click here to join the Socialist Party, or click here to donate to the Socialist Party.
---
In The Socialist 1 April 2015:
---
Socialist Party news and analysis

No cuts to welfare!

Save our schools

How to fight the anti-union laws

NHS funding crisis deepens

End punitive benefit sanctions now!

Them & Us
---
International socialist news and analysis

South Africa: campaigning for a working class party

Greece: negotiations continue

US: Seattle gets a raise!

Solidarity with Cypriot workers

Tunisia: thousands demonstrate
---
Elections 2015

Kick out rotten MPs and councillors

TUSC set for TV broadcast

School crossing campaigner stands for TUSC

Gloucester College hustings: Scrap all fees

Defend further education

Socialist Party general election appeal 2015
---
Socialist Party workplace news

Teachers need national action

Unison special conference votes for new pay claim

London bus companies forced into pay talks

Bolton Uni: reinstate Damien and Jenny Markey!

Leeds: Save our train guards

Workplace news in brief
---
Socialist Party youth and students

Students occupy for free education
---
Socialist Party comments and reviews

Election 2015 Cameron and Miliband Live

Axing Clause IV: Making Labour safe for capitalism

Working in the NHS: Low pay, cuts and stress

The Great Money Trick: Another World is Possible

The new look Socialist - thumbs up from readers
---
Home | The Socialist 1 April 2015 | Join the Socialist Party
Subscribe | Donate | PDF | ebook
---