Talks ahead of two 24-hour tube walkouts
Great Western 72-hour bank holiday stoppage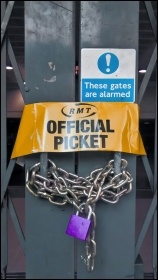 RMT official picket armband on locked station gate, photo Naomi Byron (Click to enlarge: opens in new window)
As we go to press, London Underground could be shuttered again by bosses' pig-headedness over staff restructuring and night service. But last-minute talks could still lead to management concessions.
Tube unions RMT, TSSA and Unite plan two more 24-hour walkouts. Unfortunately, drivers' union Aslef will not be taking action this time. To complement the tube's summer of strikes, RMT members on First Great Western walk out for 72 hours this bank holiday.
The next tube strikes will start on the evenings of 25 and 27 August. Aslef members voted by 98% for strikes, and many will be frustrated by leaders stepping back. Strikers will encourage rank-and-file members to support the action by not crossing picket lines in solidarity.
Joint action
This would be the platform for further joint action with Aslef. Tube workers from all unions need to stand firm to again bring London to a standstill.
The tube dispute is over devastating increases in unsocial working hours, hundreds of job cuts and attacks on pay and conditions. Unions accepted night trains from the off, but warn management's proposals will harm workers and safety. There was overwhelming public support for the last strike. It now needs to be mobilised with public meetings of tube workers, the wider union movement and the general public.
First Great Western workers are fighting driver-only operation and buffet car closures, which would hit conductors' and caterers' jobs. They are also defending maintenance workers from attacks on jobs and conditions. The strike will cause significant disruption on the London-Wales-West Country network during the 29 to 31 August long weekend.