Tower block residents defend homes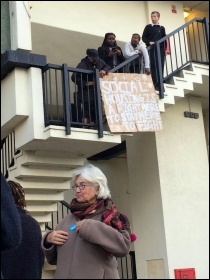 Linda Taaffe (foreground) – from Socialist Party and TUSC – supporting the residents, photo P. Mitchell (Click to enlarge: opens in new window)
Residents successfully defended their homes at Fred Wigg and John Walsh Towers in Leytonstone, east London on 28 September.
Waltham Forest's Labour council (via management organisation Ascham Homes) attempted to enter the blocks to remove dividing doors – the first stage in their social cleansing project.
Heroically residents blocked lifts and stairwells in both blocks, with the support of local trade unionists and Socialist Party members.
Trevor, a resident, said:
"The plan to sell off the blocks is ridiculous, there's not enough homes to go round. I was out here at 7.45am to protect my home.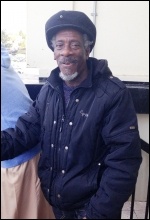 Trevor, a resident of Fred Wigg & John Walsh Towers , photo Paula Mitchell
"I've been living here since 1979. The plan to remove the security doors is just making things worse. They want to frustrate us and drive us out, so they can get more affluent people in.
"They're using regeneration to get rid of ordinary people. They're even putting the rent up for people they've moved in temporarily, which just shows what their intentions are".
Ascham Homes even called the police, but after a four hour stand-off, the residents won! The workers were withdrawn with a promise not to return until the issue has gone to court.
The Socialist Party is active in the campaign. We say: no to evictions and sell-offs. Build more social housing!
Paula Mitchell
.
.
---
This version of this article was first posted on the Socialist Party website on 28 September 2015 and may vary slightly from the version subsequently printed in The Socialist.