Link to this page: https://www.socialistparty.org.uk/issue/478/2160
From The Socialist newspaper, 15 March 2007
UNISON Health group votes for summer demo
NHS demonstration March 3rd 2007, photo Paul Mattsson
THE CONTINUING protests against the savage attacks on the NHS show that there is still massive anger about what New Labour are doing to the national health service. Now the unions seem to be responding belatedly to the pressure from below.
The March newsletter from UNISON's Healthcare Service Group announced that their group executive committee has voted for a national demonstration in response to "the escalating attacks which threaten the very existence of the NHS". This confirmation of the Healthcare service group's decision is good news.
A resolution from the National Pensioners Convention that was read out and passed at 3 March protest rallies across Britain had called on all those supporting that day of action to "unite in a national march in Central London on a Saturday in June to mark the anniversary of the 1946 Health Service Act with the aim: save our NHS."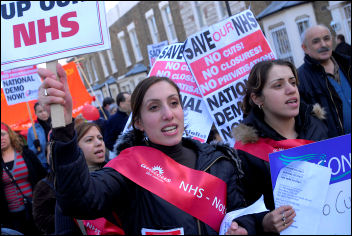 NHS demonstration March 3rd 2007, photo Paul Mattsson
UNISON Healthcare says that their union's national executive council will shortly decide on the exact date and place of the demonstration in June or July.
UNISON members must make sure that the union leadership keep their word. Workers and service users need a nationally coordinated struggle to be waged to turn back the deluge of cuts, closures and privatisation that threaten the NHS.
Regardless of whether the UNISON demonstration call is made concrete in the next few weeks, the PUSH (People United Saving Hospitals) meeting in Coventry on 31 March is vital in building up the campaign.
NHS trade union activists and campaigners against health cuts should make sure they get delegated to attend.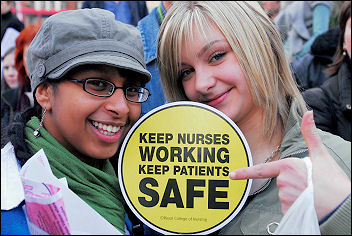 NHS demonstration March 3rd 2007, photo Paul Mattsson
Why not click here to join the Socialist Party, or click here to donate to the Socialist Party.
---
In The Socialist 15 March 2007:

£billions for rich... Pennies for us!

Minimum wage insult
---
Socialist Party NHS campaign

UNISON Health group votes for summer demo

Hewitt's 'day of exchange'
---
Socialist Party news and analysis

Fighting the cuts in Camden

Lambeth council attacks services for vulnerable people

Barking BNP don't oppose council cuts

Lewisham council's outrageous attack

Kurdish asylum seekers living in fear
---
Northern Ireland and Scotland

Northern Ireland Assembly elections: Another sectarian headcount...

We Won't Pay Campaign conference success

Solidarity builds party profile ahead of elections
---
Marxist analysis: history

February revolution 1917 - what lessons for today?
---
International socialist news and analysis

US continues threats over Iran's nuclear ambitions

Iraq war: Convicted Bush official is 'fall guy' over WMD scandal
---
International Women's Day

Celebrating International Women's Day
---
Housing

Tenants vote no to council housing sell-off

Market-driven 'social housing' threatens tenants
---
Environment and socialism

Will government plans stop climate change?
---
Socialist Students

Build the campaign to defeat fees

International Socialist Resistance (ISR) and Socialist Students conference
---
Campaign for a New Workers Party

Trade Unions and the Labour Party: CWU branch asks some awkward questions

Campaign for a New Workers' Party conference
---
Workplace news and analysis

Reinstate Dave Condliffe now

UNISON leaders lead members into dead end

SOUTHAMPTON council strike

PCS prepares for more struggles

Right wins lecturers' union leadership - on a 14% turnout
---
Home | The Socialist 15 March 2007 | Join the Socialist Party
---