Link to this page: https://www.socialistparty.org.uk/issue/479/2188
From The Socialist newspaper, 22 March 2007
Labour's NHS plans: not what the doctors ordered!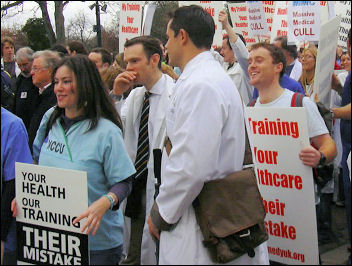 Doctors demonstrate March 2007, photo Naomi Byron
DO YOU want to be referred for an operation by Tesco or Sainsbury's? Would you trust Asda to prescribe the medication that is best for you? New Labour is proposing that supermarkets should be able to provide GP services. But private companies' priority is always profit, and they won't agree to provide healthcare unless profits are guaranteed.
Naomi Byron
To help the profiteers, New Labour are also proposing to restrict the treatments everyone is entitled to on the NHS. That brings us another step closer to the disastrous US system where a whole family can be wiped out financially if one member needs medical treatment that isn't covered by their insurance.
The only way New Labour can get away with these proposals is if the enormous support that exists for the NHS is not mobilised to defend it.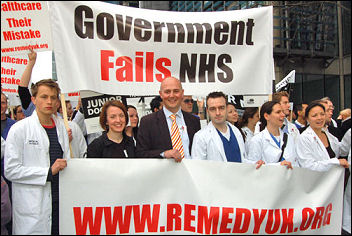 Part of the 12,000 strong protest of junior doctors marching against medical training reforms, photo (c) marc vallee, 2007.
The medical profession is not usually known for its militancy. But over 10,000 doctors, junior doctors, medical students, friends and family marched through London and Glasgow on 17 March to protest about changes to the training of junior doctors which mean that 8,000 will be left without any training post this year.
The protesters demanded the scrapping of the new online application system MTAS (Medical Training Application Service). As a third-year medical student told the socialist: "MTAS, the MMC (Modernising Medical Careers) scheme and the mess they created are a symptom of the government's reluctance to put enough money where it's needed in the healthcare system."
Placards on the protest read "Protect our training - protect your NHS" and "10 years' medical training wasted". Marchers chanted "What do we want? Jobs! When do we want them? Now" and "MMC - RIP". There was huge support from the public along the route.
Many demonstrators were eager to sign the petition to support a national demonstration to defend the health service and pointed out that it wasn't just their jobs they were marching for, but against attacks on the NHS as a whole.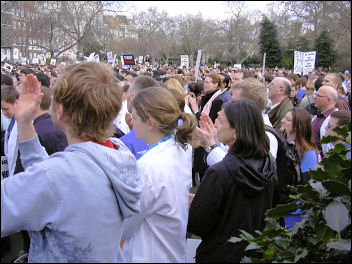 Doctors demonstrate March 2007, photo Naomi Byron
There must be no more delays in naming a date for a national demonstration to defend the NHS, uniting all health staff and trade unions as well as local campaigns against cuts, closures and job losses.
THE SOCIALIST Party has been at the forefront of the campaign to get the trade unions to call such a demo for over a year.
We must apply maximum pressure to ensure that the UNISON health executive's decision to call for a national demonstration in London in June or July is not blocked by the right-wing leaders of UNISON nationally. They value their relationship with New Labour more than the jobs of their members and the healthcare of the public.
The doctors' march was called by remedyuk - an organisation set up very recently by junior doctors in frustration that their professional organisations like the British Medical Association and the Royal Colleges of medicine were not doing enough to fight against the huge problems trainee doctors were facing. Yet once the march was clearly unstoppable the BMA supported it.
If the union leaders are not forced to call a demonstration by pressure from below, one must be organised anyway - like the 1 November demonstration in London organised by various local anti-cuts campaigns, London Keep Our NHS Public and the National Pensioners' Convention.
Why not click here to join the Socialist Party, or click here to donate to the Socialist Party.
---
In The Socialist 22 March 2007:

Labour's NHS plans: not what the doctors ordered!

Divisive forgery shocks health campaign
---
War and terrorism

End Iraq hell

Blair (and Tories) get their Trident vote

Will Bush bomb Iran?
---
Socialist Party campaigns

Public anger sees off BNP

May Day greetings - support the socialist

Keep the market out of education!
---
International Socialist Resistance

Young people get organised
---
Socialist Party news and analysis

Passenger protests force some improvements

Budget: Who are the real scroungers?

Water charges to be delayed?

Socialist Party women's day school a success
---
What we think

Private equity deals - fight free-market vultures
---
Marxist analysis: history

How was the slave trade abolished?
---
International socialist news and analysis

Rifondazione Comunista - its future?

A tale of two tours

"Bush out of Iraq and Lula out of Haiti"

Greece: The struggle to defend free education
---
Workplace news and analysis

Burslem postal workers continue the fight

Defend UNISON health activist

Greenwich single status scandal

TUC try to cut conference childcare provision

Amicus and TGWU to merge

Fight university job cuts

Lobby for migrant workers' rights
---
Home | The Socialist 22 March 2007 | Join the Socialist Party
---