London: Socialist Party 'open mic'
As thousands gathered to march on Saturday to say "stop bombing Syria", the Socialist Party provided a small stage and open mic to address the crowds.
This demonstration was young and angry. And unlike so many 'official' platforms that sadly exclude the voices of workers, young people and socialists, our stage provided people with the chance to put their views.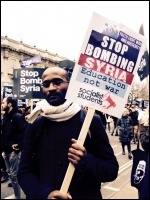 For a brilliant hour and a half, socialists, young people, including many people from the Middle East, took to the stage to say why they were marching.
No one was surprised when David Cameron and Tories voted to bomb. But the crowd roared approval when Socialist Party member and former TUSC candidate Nancy Taaffe lambasted the treacherous 66 Labour MPs who voted for bombing.
She called for the right of recall, and for those right-wing MPs to be held accountable by Labour Party members and face reselection.
Claire Laker-Mansfield explained that in reality there are two Labour Parties and a massive fight is needed inside and outside the Labour Party to win the anti-war and anti-austerity policies that propelled Jeremy Corbyn into the leadership.
Paul Callanan put forward how a movement can be built that can not only end war but can fight for socialism.
A fantastic youth contingent gathered behind the banner of "Youth Fight War and Austerity". Helen Pattison explained how school and college students have been protesting and campaigning in the last couple of weeks, demanding money for education not for war.
A long stream of young people plucked up the courage to mount the stage and speak, most for the first time ever. 15-year-olds, 17-year-olds, boldly called for an end to the bloodshed – "You can't make peace with bombs".
Young people from Syria, Egypt, Iraq and Israel-Palestine were among those who spoke, as well as young British-born Muslims who countered the racism of the Tory government's "British values".
Isai Priya from the Socialist Party and Tamil Solidarity spoke about refugees and migrants and the need for a united fight.
Omer from the Socialist Party's sister party in Israel/Palestine spoke passionately about the need for a united campaign of working class and young people in the Middle East against ISIS, the capitalist regimes of the region and western powers.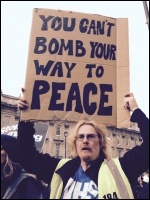 Oktay Sahbaz spoke from the Kurdish community to refute the idea that Kurdish people are all calling for the west to bomb.
The Socialist Party's slogans "Kick out the warmongers" and "For a Labour Party against War and Austerity" were extremely popular. Our placards were snapped up and many people gladly made substantial donations for them, as much as £20.
The youth contingent ran and chanted all along the route and energised the demo – chanting "No to war and capitalism, what we need is socialism", "Say hey, say ho, the 66 have got to go" and "Money for war and invasion, none for health and education". 180 young people signed up to Youth Fight War and Austerity, and 20 people wanted to join the Socialist Party.
Paula Mitchell
---
Anger at Hilary Benn on Leeds anti-war march
Around 100 people braved heavy rain and cold in Leeds on Saturday 12th December to protest and march against the bombing of Syria.
Special attention during this protest was given to Hilary Benn, Labour MP for Leeds Central constituency, who despite mass media praise for his speech in parliament while debating bombing Syria has consistently failed to justify his vote in favour of bombing when confronted by his constituents. This anger was reflected by the warm response the march received from Christmas shoppers in Leeds, a number of whom applauded the march as it went past.
The protest concluded by focussing on the fact that the fight against military action in Syria can't end with a march and the need to further build the movement. Speakers reflected on lessons from previous anti-war movements such as against the war in Iraq, and on the need to draw people – like those who applauded the march – into the movement by building campaigns within schools, colleges, universities and workplaces.
Michael Johnson, Leeds Socialist Party
---
See also: