Link to this page: https://www.socialistparty.org.uk/issue/897/22592
From The Socialist newspaper, 13 April 2016
Brazil: solidarity with attacked civil servants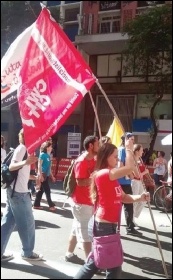 LSR (CWI in Brazil) members march in solidarity with striking Metro transport workers (Click to enlarge)
LSR (CWI in Brazil) reporters
On 4 April, a group of civil servants in Praia Grande, Brazil, who are in struggle for a wage increase of 12.5%, occupied their trade union (linked to Força Sindical) offices in protest at the treacherous actions of the union leadership which threatened to sell out their dispute.
After five hours waiting for the union president, they were surprised by 20 henchmen and beaten in a cowardly manner. Please, send urgently messages of your solidarity with these workers against such abuse.
They mainly fight for a real increase in their wage and against the president of the union. This is their first struggle in eight years. For many of these workers, it is the first struggle of their lives.
Please send solidarity messages to: mauricio.de.oliveira.filho@gmail.com
A congressional committee voted to recommend impeaching Brazil's President Dilma Rousseff over corruption claims. The decision will intensify political struggle between parties in the governing coalition and on the streets, where mass pro and anti-Rousseff demos have taken place. More in a future issue of the Socialist
Why not click here to join the Socialist Party, or click here to donate to the Socialist Party.
---
In The Socialist 13 April 2016:
---
Panama Papers

Panama Papers reveal corrupt system of the 1%

Austerity not needed

Reactionary EU campaigners implicated by Panama Papers

Another Fifa corruption scandal

Houses for offshore investment, we're stuck at home
---
Socialist Party workplace news

Nationalise to save all Steel jobs

Save BIS Sheffield: we won't be a Northern Poorhouse!

RMT branch calls for TUSC backing to continue

Doctors fight on against imposed contracts

Construction workers defend jobs and pay

Workplace news in brief
---
Review: Militant by Michael Crick

Review: 'Militant' by Michael Crick
---
Refugees

Solidarity with refugees: fight for jobs, homes and services for all

Campaigning for scholarships for refugees - and free education for all
---
International socialist news and analysis

France: full-scale struggle with government is erupting

Bangladesh: stop the Rampal power project

Brazil: solidarity with attacked civil servants

International Panama Papers protests
---
EU referendum

Bosses back EU to boost NHS sell-offs
---
Socialist Party campaigns

Library occupation ends with march on cutting council

Sales of the Socialist on the rise, read all about it!

No A-level courses in Knowsley thanks to 'academies' system

Workers and youth unite to defend vital services

"Not the church, not the state - women must decide their fate!"
---
Defend the NHS

Huddersfield A&E fightback grows

Demonstration to defend the NHS in Leicester

Worcestershire: hands off our health service!
---
Comment

Letter: Women and work
---
Home | The Socialist 13 April 2016 | Join the Socialist Party
Subscribe | Donate | Audio | PDF | ebook
---