Link to this page: https://www.socialistparty.org.uk/issue/906/23019
From The Socialist newspaper, 15 June 2016
Hospital porters and domestic staff claim jobs and pay victory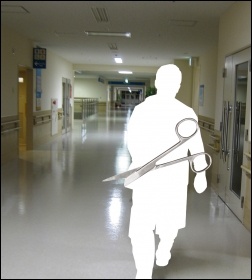 NHS staffing cuts, photo ward photo Yuya Tamai, scissors photo Wikimedia Commons, both Creative Commons, composite James Ivens (Click to enlarge)
Domestic staff and porters at Whipps Cross Hospital in east London have won a significant pay increase and job security. The pay rise - over 20% - and permanent contracts - follow a sustained campaign by general union Unite.
One worker described how the success would affect her: "This will mean a real improvement in my living standard and importantly some security through a permanent employment contract."
The overwhelmingly female migrant workforce had, in some cases, been working on 'bank' - zero-hour contracts - for up to four years. Their employer, outsourcing firm Carillion, had been paying the minimum rate. Permanent workers are payed the higher NHS 'Agenda for Change' rates.
The union's success will see pay rise from £7.20 to £9.40 an hour. Agency domestic and portering staff, also on minimum rates, are set to benefit too: casual jobs will convert into permanent employment contracts.
Unite branch secretary and porter Len Hockey, a member of the Socialist Party, said: "This is a huge success story for these workers. The union has campaigned determinedly for over two years to achieve this.
"Now these workers, who are integral links in the chain of care delivered to every patient at Whipps Cross Hospital, have, through their union, secured permanent employment contracts at the London Living Wage pay rate."
Donate to the Socialist Party
Finance appeal
The coronavirus crisis has laid bare the class character of society in numerous ways. It is making clear to many that it is the working class that keeps society running, not the CEOs of major corporations.
The results of austerity have been graphically demonstrated as public services strain to cope with the crisis.
The government has now ripped up its 'austerity' mantra and turned to policies that not long ago were denounced as socialist. But after the corona crisis, it will try to make the working class pay for it, by trying to claw back what has been given.
The Socialist Party's material is more vital than ever, so we can continue to report from workers who are fighting for better health and safety measures, against layoffs, for adequate staffing levels, etc.
When the health crisis subsides, we must be ready for the stormy events ahead and the need to arm workers' movements with a socialist programme - one which puts the health and needs of humanity before the profits of a few.
Inevitably, during the crisis we have not been able to sell the Socialist and raise funds in the ways we normally would.
We therefore urgently appeal to all our viewers to donate to our Fighting Fund.
---
In The Socialist 15 June 2016:
---
EU referendum

EU referendum: whatever the result, political turmoil is ahead

EU: busting the myths that Remain is best for the 99%

TUSC anti-EU tour touches down in Wales

BT Brexit baloney

Letters: EU referendum
---
International socialist news and analysis

Orlando massacre: working class unity to defeat homophobia, terrorism and racism

France: workers' revolt against labour law grows
---
Socialist readers' comments and reviews

Hilarious, innovative satire on state bureaucracy
---
Workplace news and analysis

Unison conference 2016: fighting leadership needed more than ever

GMB backs no-cuts budgets and steel nationalisation

Pennine Foods strike forces bosses back to the table

Hospital porters and domestic staff claim jobs and pay victory

Strike at Argos depot against contracting out of jobs

Buses parked three deep in Leeds strike

School support staff mobilise against slashing of pay

Uber drivers strike against unfair fares

Lorry stoppage paves the way to victory

Solidarity with victimised bakers' union rep
---
Housing crisis

Action to defeat the Housing Act: we won't move!

Housing Act: landlords and developers set to profit

Generation rent demands affordable housing
---
NHS

Re-open Chorley A&E - end the staff shortages

Hands Off HRI campaign grows from strength to strength
---
Socialist Party news and analysis

Systemic failures hurt kids in justice system

Them & Us

Socialist Party fundraising: punching above our weight
---
Home | The Socialist 15 June 2016 | Join the Socialist Party
Subscribe | Donate | PDF | ebook
---