Link to this page: https://www.socialistparty.org.uk/issue/484/2349
From The Socialist newspaper, 26 April 2007
Brighton
Stop privatisation
IN BRIGHTON the Socialist Party is standing two candidates (Phil Clarke and Andy Clarke) as part of a three-strong socialist slate in the Hollingbury and Stanmer ward. The third candidate is Tony Greenstein, a member of the Alliance for Green Socialism (AGS).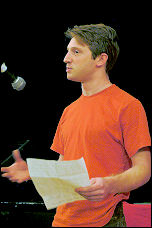 Sean, Socialist Pary congress 2007, photo Paul Mattsson
Sean Figg
Both the Socialist Party and AGS are supporters of the Campaign for a New Workers' Party (CNWP). We decided to stand a full slate in the ward to offer voters there a full socialist alternative to the pro-capitalist parties and to begin to build the CNWP locally by showing how different groups can support each other and campaign jointly.
A joint Socialist Party/AGS leaflet has been put out around the ward, explaining that the candidates are from different parties but they are campaigning together as a full slate supporting the CNWP.
There are some very good opportunities in this ward to raise socialist ideas, build the Socialist Party and build support for the CNWP. There are many council homes in the ward - last month council tenants dealt a massive blow to the current crop of councillors' housing privatisation plans. We are emphasising our key role in that campaign and our anti-privatisation position.
The ward also contains halls of residence for both Brighton and Sussex universities which makes it the largest ward in the city. Socialist Students will be building support for the election campaign by tying in our candidates' support of the Campaign to Defeat Fees.
We are also doing work around local public-sector workplaces. We are tying in our local election campaign (as a concrete example of the CNWP in action) to the forthcoming CNWP conference (see page 2) and support for CNWP signatories up for election to public sector union executives.
Why not click here to join the Socialist Party, or click here to donate to the Socialist Party.
---
In The Socialist 26 April 2007:

Blair's legacy... war, cuts & privatisation

Civil servants' union May Day strike

Free Arrested activists now
---
Socialist Students

Join the campaign to defeat fees

No victimisation - support Deeside college lecturers

Campaign to Defeat Fees National Meeting
---
Socialist Party election analysis

New Labour - lowest poll ratings since 1983

Come to the Campaign for a New Workers' Party conference

Campaign for a New Workers' Party conference

Support for Labour falling in Scotland

Campaigning for socialist ideas in South Wales

Huddersfield: Fighting against NHS cuts and closures

Coventry socialists fight Post Office closure

Southampton: Save our Services!

Brighton: Stop privatisation

Merseyside: Tweedledee, Tweedledum, Bootle has a real socialist alternative

Manchester Wythenshawe: NHS cuts threaten lives

Donate to fund a socialist alternative

Socialist solidarity on May Day
---
International socialist news and analysis

Socialist wins court battle in Kazakhstan

France: Record turnout sees Royal and Sarkozy go through to second round

Yeltsin's real record - 'wild capitalism' in Russia

US mass shooting horror

Nigerian elections - a dangerous farce
---
Socialist Party workplace news

Support the Sunvic strikers

UNISON Delegates demand action
---
Home | The Socialist 26 April 2007 | Join the Socialist Party
---