Link to this page: https://www.socialistparty.org.uk/issue/924/23906
From The Socialist newspaper, 9 November 2016
Action needed to defend workers at the sharp end of prisons crisis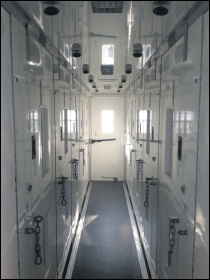 Prison officers and inmates are in danger because of cuts, photo by West Midlands Police (Creative Commons) (Click to enlarge)
A prison officer
The latest national statistics on safety in our prison system were released recently. These quarterly figures have been breaking records and setting new "unprecedented highs" systematically since 2010 - a year which 'coincidentally' ties in with the culling of 7,000 prison officers' jobs.
Currently deaths in custody including homicides, incidents of self-harm and assaults among prisoners are all on the increase, including a 43% rise in assaults on staff in the last year. The POA union of prison officers and allied workers has consistently challenged the government and employers' plans on how to tackle this ever-worsening situation but year on year the stats speak for themselves.
Some individual branches like Holme House, Wetherby and Wormwood Scrubs have taken action to protect their members from the ever-increasing risk of violence by staging walkouts on health and safety grounds. This is a legal right of any employee, yet all have been branded as criminals themselves and threatened with legal proceedings for their efforts. Prison officers have been denied their right to strike since 1994.
The true extent of the problem is not known by the general public. Drones flying drugs over prison walls, weapons caches, new psychoactive substance and drug abuse, slashing, stabbings, murder and suicide are all events in an average week for some prison officers. They currently have to work until the age of 68 before they qualify for their now reduced civil service pension.
Action gets results
In response to these latest figures the POA directed its members to hold meetings outside of their establishments on 2 November and mandate local committees to effectively take charge of each prison and its regime unless immediate assurances from local management were given. As always the National Offender Management Service (NOMS) hid behind the courts and cited that this was illegal industrial action.
NOMS and the justice secretary Liz Truss did eventually agree to talks with POA national officials on the condition they suspend their directive. These talks are now underway and will cease on 11 November. Should they not address the fears and concerns of the POA, it will re-issue its directive.
Meanwhile Liz Truss has announced government plans on 'prison reform'. They include an injection of 2,500 prison officers to tackle the issue of violence which has been cautiously welcomed. The reality is that prisons are a 'people industry'.
You cannot mechanise the production line or replace analysts with hi-tech software, you need staff supervising and interacting with prisoners in order for them to be safe - plenty of them! 2,500 will hardly make a dent in the damage that has been caused by the removal of the previous 7,000 and with a starting salary of £19,000 plus a retention rate of virtually zero, the number may as well be 100,000. Log on to the civil service website at any time of day and you will see dozens of jails constantly recruiting but in truth nobody wants to work in prisons now.
As well as the "injection of frontline staff", there are the plans for each prison to become a separate legal entity, like academy schools or NHS foundation trusts. What this will mean for the national collective bargaining powers of the POA, dispute resolution, universal pay structures and HR policies is unclear.
Prison officers and union officials would be irresponsible if they allowed this crisis to continue without taking action so I ask everyone to go out and support your local prisons and POA members when that action takes place.
Donate to the Socialist Party
Coronavirus crisis - Finance appeal
The coronavirus crisis has laid bare the class character of society in numerous ways. It is making clear to many that it is the working class that keeps society running, not the CEOs of major corporations.
The results of austerity have been graphically demonstrated as public services strain to cope with the crisis.
The government has now ripped up its 'austerity' mantra and turned to policies that not long ago were denounced as socialist. But after the corona crisis, it will try to make the working class pay for it, by trying to claw back what has been given.
The Socialist Party's material is more vital than ever, so we can continue to report from workers who are fighting for better health and safety measures, against layoffs, for adequate staffing levels, etc.
Our 'fighting coronavirus workers' charter', outlines a programme to combat the virus and protect workers' living conditions.
When the health crisis subsides, we must be ready for the stormy events ahead and the need to arm workers' movements with a socialist programme - one which puts the health and needs of humanity before the profits of a few.
Inevitably, during the crisis we have not been able to sell the Socialist and raise funds in the ways we normally would.
We therefore urgently appeal to all our viewers to donate to our special coronavirus appeal.
---
In The Socialist 9 November 2016:
---
High Court Brexit bombshell

Bosses' government, bosses' EU...fight for socialism

High Court bombshell on Brexit decision
---
Socialist Party news and analysis

Stop the 54,000 yearly maternity sackings

Build housing for the kids without homes this Xmas

Unions must act on pay restraint!

Court slams Tory air quality plans

Them & Us
---
Socialist Party reports and campaigns

Build the education fightback

Read the Socialist

Over a thousand march to fight museums and libraries cuts

Library cuts: working class kids suffer most

Momentum left meeting excludes socialists

New Socialist Party pamphlet: Fight racism, fight for socialism

Far-right given short shrift in Darlington

Obituary: Hilary Mooney 1945-2016
---
Socialist Party workplace news

Action needed to defend workers at the sharp end of prisons crisis

Courts and tribunal services face huge cuts

Newcastle council cuts: opportunity for trade union fightback

Birmingham's Labour council freezes workers' pay

Hackney Picturehouse strike
---
International socialist news and analysis

Turkey: Erdogan tightens repressive screw

Ireland: Gardai strike threat

South Africa: State victimises #OutsourcingMustFall activists
---
Socialist Party comments and reviews

Horror of health-wrecking toil for Polish migrants

HyperNormalisation: Arbitrary selection of ideas to confirm feelings of powerlessness

Socialist inbox
---
Home | The Socialist 9 November 2016 | Join the Socialist Party
Subscribe | Donate | Audio | PDF | ebook
---