Link to this page: https://www.socialistparty.org.uk/issue/924/23910
From The Socialist newspaper, 9 November 2016
Hackney Picturehouse strike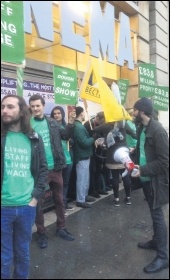 Hackney Picturehouse picketing for the London Living Wage, 4.11.16, photo by Mark Best (Click to enlarge)
Strikers at Hackney Picturehouse picketed the launch of a new film on 4 November, A Bectu rep spoke to Clare Doyle: "This is the second time that Hackney Picturehouse workers have been on strike this month. We were planning to walk out at 4pm but they have been closed all day. We're striking for a living wage. We believe that the company can afford it and has a moral duty to pay it. They made a profit of £83.8 million last year! We're tactically targeting the busiest film launches. Tonight it's 'Nocturnal Animals'. It would've been a sold-out screening. We will also be targeting the launches of Harry Potter and Star Wars and all the other key moments in which they make all the money. We know this can cost them more than it would cost simply to pay us the living wage. We are willing to do this until we win!"
Why not click here to join the Socialist Party, or click here to donate to the Socialist Party.
---
In The Socialist 9 November 2016:
---
High Court Brexit bombshell

Bosses' government, bosses' EU...fight for socialism

High Court bombshell on Brexit decision
---
Socialist Party news and analysis

Stop the 54,000 yearly maternity sackings

Build housing for the kids without homes this Xmas

Unions must act on pay restraint!

Court slams Tory air quality plans

Them & Us
---
Socialist Party reports and campaigns

Build the education fightback

Read the Socialist

Over a thousand march to fight museums and libraries cuts

Library cuts: working class kids suffer most

Momentum left meeting excludes socialists

New Socialist Party pamphlet: Fight racism, fight for socialism

Far-right given short shrift in Darlington

Obituary: Hilary Mooney 1945-2016
---
Socialist Party workplace news

Action needed to defend workers at the sharp end of prisons crisis

Courts and tribunal services face huge cuts

Newcastle council cuts: opportunity for trade union fightback

Birmingham's Labour council freezes workers' pay

Hackney Picturehouse strike
---
International socialist news and analysis

Turkey: Erdogan tightens repressive screw

Ireland: Gardai strike threat

South Africa: State victimises #OutsourcingMustFall activists
---
Socialist Party comments and reviews

Horror of health-wrecking toil for Polish migrants

HyperNormalisation: Arbitrary selection of ideas to confirm feelings of powerlessness

Socialist inbox
---
Home | The Socialist 9 November 2016 | Join the Socialist Party
Subscribe | Donate | Audio | PDF | ebook
---