Link to this page: https://www.socialistparty.org.uk/issue/928/24081
From The Socialist newspaper, 7 December 2016
Workplace news in brief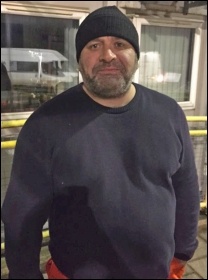 Transport worker and Socialist Party member Paul Reilly has been elected to the executive committee of transport union RMT (Click to enlarge)
Paul Reilly elected to RMT EC
Socialist Party member Paul Reilly, a branch secretary of the RMT transport workers' union in Nuneaton, has been elected to the union's national executive committee to represent the Midlands region.
Network Rail worker and former Trade Unionist and Socialist Coalition (TUSC) candidate Paul said: "To have received the confidence and support of our members over these past few months and to be elected by them on to the executive is a massive honour!
"I have no doubt whatsoever that the challenges and Tory attacks on our industry and on the trade union movement as a whole over the next few years will be some of the toughest we will have ever faced
"This won't be easy at all, but I'm ready and willing to take up the challenge head on! I won't let you down!"
---
>
Trade Union Act to come into force 1 March - TUC call a special conference
The Tories have confirmed that their anti-union laws, incorporated in the Trade Union Act, including new undemocratic industrial action ballot thresholds, will come into force on 1 March.
The National Shop Stewards Network (NSSN) calls on the TUC to implement the policy passed at this year's TUC Congress moved by the RMT, which includes: "Congress believes the General Council needs to convene an urgent conference of affiliates to provide a practical forum, including workshops, as to how to best coordinate our legal and industrial response to the act in line with policy already set by congress."
And an amendment from the FBU: "Congress should discuss all options for challenging the new legislation. This should include stepping up the campaign to scrap the Act and other anti-union legislation as well as the practical steps to be taken to support any unions and groups of workers threatened by this anti-worker legislation."
Why not click here to join the Socialist Party, or click here to donate to the Socialist Party.
---
In The Socialist 7 December 2016:
---
What we think

No more concessions to Labour right!
---
Socialist Party news and analysis

Fight for a socialist Brexit

Conservatives humiliated in Richmond

Newham council to sack up to 1,300

Slump in unfair dismissal cases - scrap tribunal fees!

Workers can fight Uber-style care

Compensation disabled

Them & Us
---
Food banks feature

Food banks and the real Daniel Blakes
---
NHS crisis and fightback

NHS: Stop the Tory vandals

Hundreds protest the decimation of Devon NHS

Massive support in Stoke for action to save the NHS

Health campaigners in Yorkshire protest "slash and trash plans"
---
International socialist news and analysis

Victory at Standing Rock: US authorities agree to re-route oil pipeline

Spain: Government forced back by Student Union mobilisations

Italy: Establishment routed - workers alternative needed

Portugal: No to witch-hunts - fight the capitalists not socialists

Austria: Far right temporarily halted

Sudan: General strike in defiance of regime
---
Socialist Party workplace news

Durham TAs force Labour to suspend pay cuts

Protest against Glasgow Labour's scab workforce plan to defeat Unison strike

Crossrail action in defence of victimised union rep

Unison members barely earning the living wage in some universities

Sacked bakers' union rep Kumaran Bose calls for living wage 'protection'

Workplace news in brief
---
Socialist Party reports and campaigns

Bolton council gives £300k to solicitors while making swingeing cuts

Reading TUSC writes to Labour councillors to demand cuts fight
---
John Sharpe: 1953-2016

Obituary: John Sharpe: 1953-2016
---
Home | The Socialist 7 December 2016 | Join the Socialist Party
Subscribe | Donate | Audio | PDF | ebook
---