Link to this page: https://www.socialistparty.org.uk/issue/937/24691
From The Socialist newspaper, 22 February 2017
Argos fails to pay staff minimum wage - taxman cuts fine in half!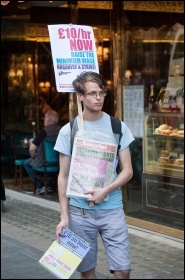 The Socialist Party campaigns for an immediate increase in the minimum wage to £10 an hour, photo by Paul Mattsson (Click to enlarge)
Nationalise poverty payers
£10 an hour now
Tom Costello, Lancashire Socialist Party
Retail giant Argos has recently been caught red-handed paying 37,000 workers less than the national minimum wage.
Following an investigation by HM Revenue and Customs, the retailer has been made to pay back £2.4 million in unpaid wages after they made workers attend staff briefings and carry out security checks out of paid hours.
Chief executive John Rogers has come out to provide an explanation for this, saying that "unexpected things do come up as we get to grips with the business."
We should all laugh at such a poor excuse. But the fact that Argos has been profiting off millions of pounds in unpaid labour is not the only travesty here.
What is truly despicable is the paltry fine imposed on Argos's parent company, Sainsbury's. While they were at first going to be made to pay £1.5 million, the taxman has cut the fine almost in half - to just £800,000 - for prompt payment.
This is while Sainsbury's group, in 2013-14 alone, had a total income of £435 million after tax! True, it posted a one-off loss last year, its first in a decade - but of less than half this figure. It really shows us whose side HM Revenue and Customs is on.
Stories such as this are unsettlingly common, and they all demonstrate that, no matter what, capitalists will always look for a new way to steal and to exploit.
Why has Labour not acknowledged this? Surely a Labour Party that takes on thieving big business giants could win unparalleled levels of support among working people.
It is because of stories like this that the Socialist Party calls for business giants like Sainsbury's to be nationalised and placed under democratic workers' control and management.
Why not click here to join the Socialist Party, or click here to donate to the Socialist Party.
---
In The Socialist 22 February 2017:
---
Save our NHS!

Support the NHS? Join the march!

Health cuts responsible for rise in deaths - reverse all austerity now

Stop victimising NHS whistleblowers
---
International socialist news and analysis

Dublin: #JobstownNotGuilty
---
Fighting the cuts

Leicester Unison no-cuts budget call

Bristol: Hundreds march against council cuts

Tower Hamlets anti-cuts budget lobby
---
Socialist Party news and analysis

30% of people on inadequate incomes in UK

Stop the student loan sell-off - scrap all fees

Argos fails to pay staff minimum wage - taxman cuts fine in half!

What we saw
---
February Revolution 1917

February revolution 1917 - what lessons for today?
---
Socialist Party workplace news

Aslef members reject Southern deal - now for coordinated action to fight to win

Tata pension deal: 'Gun to the head' offer accepted

Unison Women's Conference

Workplace news in brief
---
Socialism not Trumpism

Socialism not Trumpism: Thousands more protest and plan to walkout
---
Socialist Party reports and campaigns

A world to win - give us the resources!

Socialist Party regional conference reports

Obituary: John Pickett - 1954-2017

Wallasey Labour remains suspended despite collapse of allegations
---
Socialist Party comments and reviews

Worried about fake news? Start with Labour councils' budget lies

Organise to reverse 28% rise in violence against retail workers

The Socialist Inbox

Web series review: Cooked - "How capitalism ruined eating"
---
Home | The Socialist 22 February 2017 | Join the Socialist Party
Subscribe | Donate | Audio | PDF | ebook
---