Link to this page: https://www.socialistparty.org.uk/issue/491/2507
From The Socialist newspaper, 14 June 2007
Fresh wave of protest in NHS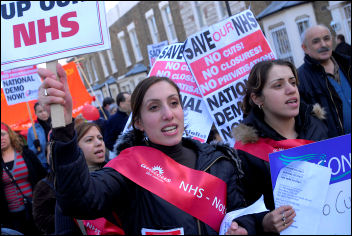 NHS demonstration March 3rd 2007, photo Paul Mattsson
"POLITICAL MEDDLING has brought the NHS to its knees... give us back the health service and we will rebuild it," said Jonathan Fielden of the British Medical Association last week, reflecting the anger at continued cuts and reorganisation within the NHS.
Lois Austin
In the last five months doctors have organised a 12,000-strong march, a rally at Westminster and taken the department of health to court over changes to how junior doctors are selected. And there's now talk of doctors setting up a new union to fight better for their interests.
But health minister Patricia Hewitt claims that: "The NHS is in its strongest financial position for years, waiting times have been reduced, cancelled operations have continued to fall and the vast majority of patients wait four hours or less in A&E." Hewitt gives a whole new meaning to 'double speak' and government spin.
A TV programme added insult to injury for nurses, enraged by a below-inflation pay award, by asking premiership footballers to give a day's pay to a hardship fund for nurses.
One nurse, who devoted 31 years to the profession, said: "I am embarrassed that someone has gone cap in hand, pleading for money to set up a hardship fund from young men who could be my sons or grandsons."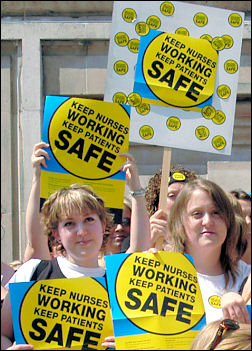 Unison and RCN nurses lobby of parliament in 2006, photo Paul Mattsson
Another health worker calculated that the programme only raised £750,000 for the hardship fund. But if all Premiership footballers paid 50% tax on their income over £100,000, it would raise nearly £100 million every single year. He added: "We shouldn't be satisfied with the scraps!" And they shouldn't be.
Maximum pressure must be put on the trade union leaders to build industrial action for an above-inflation pay increase for health workers and other public-sector workers.
Blood service workers will protest this week. Industrial action could be just around the corner over the blood service's centralisation from ten testing centres to just three so-called 'super' centres. Whole regions will be left with no blood services close by.
The new financial year is bringing a fresh wave of protest in the NHS. It needs to be brought together in a united national campaign. The protests planned by People United Saving Hospitals (PUSH) and by Keep Our NHS Public for the NHS anniversary day on 5 July can give a national focus and be a stepping stone towards a massive national demonstration on 13 October.
Why not click here to join the Socialist Party, or click here to donate to the Socialist Party.
---
In The Socialist 14 June 2007:

Fight for a living wage

No to attacks on pay and conditions: leaflet

Come to the National Shop Stewards Network Founding Conference

Founding Conference of the National Shop Stewards Network

Stoke: Anger at postal privatisation
---
Unison national conference

Fight attacks on the public sector

Members' discontent strengthens left in UNISON elections

Campaign For A New Workers' Party public meeting

Swansea workers fight privatisation

Merger with GMB?
---
What we think

United public sector struggle needed
---
Socialist Party NHS campaign

Fresh wave of protest in NHS

Labour climbs down in Wales - but for how long?

Coventry - Anger at NHS redundancy threat

Durham hospitals jobs threat

Prescription for profit

Stem cell potential to break medicine bottleneck
---
War and terrorism

Stop The War Coalition - demonstration

Anti-Bush day in Italy - A tale of two protests
---
G8 Summit protests

What did the G8 summit achieve?

G8 protests: Determination wins through
---
International socialist news and analysis

Boycotts of Israel: Will they help the Palestinians?

Western hypocrisy over 'democracy' utilised by Putin
---
Socialist Party news and analysis

Oil, profits, sleaze and hypocrisy

How Mittal makes millions

Bosses' bonuses

Amicus conference: Unite and New Labour
---
Home | The Socialist 14 June 2007 | Join the Socialist Party
---