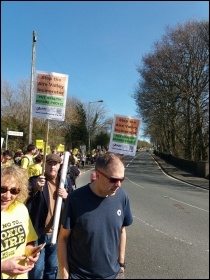 Bradford march against incinerator photo Bradford Socialist Party (Click to enlarge: opens in new window)
Peter Robson, Bradford Socialist Party
Between 500 and 600 people showed a palpable level of anger not only to the proposed building of a waste incinerator in Keighley, Yorkshire, but also the decision by Bradford Labour council to pass the plans.
Conversations we had with people at the protest on 25 March soon turned to anger towards the council with one protester saying: "Where was the consultation for this plant? People are still not aware that it will even be built and they have railroaded this through!"
Pollution
If this site is built we can expect a 180-foot-tall stack and toxic smoke covering the district. Around 60 wagons a day are expected to add to the pollution. All of this contravenes Bradford council's own environment project and plans. Clearly, cash speaks louder than the health of people.
People on the inspiring march into Keighley town centre engaged with us on the route, applauding us for making a stand. Motorists and passengers sounding their horns.
At the rally in the town centre one speaker put the facts straight about employment at the plant saying the initial estimate of 500 jobs to be created was now actually 79 at best. The Trade Unionist and Socialist Coalition banner was unfolded and drew a lot of attention with people linking cuts, poor life chances and the building of this plant.
We will now become more active in this campaign and hopefully the local community can push Bradford council back on the horrendous decision taken.
Previous campaigns involving Socialist Party members have stopped damaging incinerators in Waltham Forest and Devon