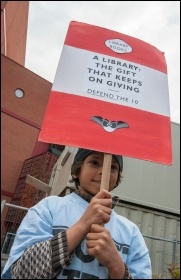 Marching against library, gallery and museum closures, 5.11.16, photo Paul Mattsson (Click to enlarge: opens in new window)
Ryan Aldred, Plymouth Socialist Party
To show our opposition to the planned closure of ten of Plymouth's 17 libraries, Socialist Party members will join community campaigners and concerned members of the public in attending the last in a series of consultation meetings on 5 April.
The plan by the Tory-Ukip coalition outlines the need to invest in more digital services to make the library services more accessible. We certainly wouldn't disagree with the need to invest in these services but they should not come at the cost of public service jobs and spaces which are used by residents and community groups.
Since these library consultation meetings began there has been a wave of opposition and protest. Local residents have expressed their anger at drop-in sessions, and Peverell library, one of the ten marked for closure, has been flooded with a mass 'read-in' of over 200 people.
In a previous consultation meeting, Conservative councillor Glenn Jordan said: "It is not about money, bricks and mortar." When grilled he had no answer for how shedding jobs and closing spaces used by all manner of community groups is meant to be a good thing for Plymouth residents. If money isn't an issue then keep the libraries open!