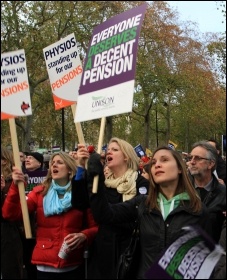 London strike demo 30 November 2011 pensions dispute photo Senan, photo Senan (Click to enlarge: opens in new window)
To be scrapped
Tories' Trade Union Act
Zero-hour contracts
Public sector pay cap
Employment tribunal fees
Unpaid internships
EU undercutting of pay agreements
To be introduced
£10 an hour minimum wage
Collective bargaining
New rights for trade unions
We say
Build on these pro-worker policies
Get them in the Labour manifesto
Mobilise workers and young people to fight and win them
---
Freeing workers and unions
Rob Williams, Socialist Party national industrial organiser
Workers will welcome Jeremy Corbyn and John McDonnell's 20-point workers' charter to fix the "rigged economy" in the workplace.
Restoring, defending and strengthening trade union rights – as the most effective way to fight for more secure employment and better wages – is a major theme of the programme. These policies, on condition they are made part of Labour's manifesto, could open the door to challenging mass casualisation and low pay.
The commitment to repeal 2016's Trade Union Act would be a major step forward. It needs to be a first step towards removing all of the anti-union laws.
Thatcher's additions to anti-union legislation were maintained by Tony Blair – who boasted that on his watch, they were "the most restrictive union laws in the Western world." Incidentally, the right to strike should be restored to the POA union of prison officers and allied workers.
The policy of abolishing Tory employment tribunal fees would also be a big advancement. Just a year after their introduction, there was a 70% fall in workers challenging bosses at tribunals.
The pledged public inquiry into blacklisting is also much needed, to expose and redress persecution of trade unionists.
In some respects, the charter doesn't just seek to reverse the anti-working class policies of the last seven years of Tory government, propped up for the first five by the Lib Dems. It could also undo some of the anti-working class policies of Blair and Gordon Brown's 'New Labour'.
And it is an effective answer to the fatalists and pessimists within Labour and the unions, who have totally misunderstood why millions of workers voted to leave the EU – in part, as a blow against the capitalist establishment and its neoliberal 'race to the bottom' in the workplace.
These policies represent a far stronger defence of workers' rights than the limited protections of the EU – and without accepting the EU's undercutting of collective agreements and pay.
It is explicit: "Ensure that any employer wishing to recruit labour from abroad does not undercut workers at home – because it causes divisions when one workforce is used against another."
Overall, the current programme can and should be strengthened – but it is an important foundation that will be attractive to workers. The Corbyn movement must seriously campaign on it so that workers are convinced it would be implemented, taking it into factories and offices as well.
Doing this – as well as pledging policies like renationalising rail, energy and Royal Mail – could really inspire workers to vote to put Jeremy into government.
And it would totally expose the hypocrisy of Theresa May, who has tried to style herself as pro-worker, aware of the massive anger against the counterrevolution in workers' pay and conditions over the last decades.
But it has to be campaigned for alongside socialist policies that challenge capitalist ownership of the economy, as the essential guarantee for workers' rights and a decent future for us and our families.
---
Fighting poverty pay
Glenn Kelly, Socialist Party industrial department
Millions of workers in Britain are condemned to low pay and insecure contracts. Corbyn and McDonnell's 20 points offer a significant step forward for many. They must be welcomed as a great first step.
The programme's key measures on pay include a pledge to raise the minimum wage, which Corbyn has previously promised to lift to £10 an hour in 2020. Ending the public sector pay cap, banning zero-hour contracts, and reinstating collective bargaining are other key policies.
With six million workers earning less than the (real) living wage, £10 an hour in particular is very welcome.
Corbyn must head off Blairite attempts to undermine this by pledging its immediate introduction, not waiting three years. He should also explicitly state there will be no exemptions for youth and training, unlike the Blairite and Tory minimum wage rates.
Public sector workers, whose living standards have fallen for over a decade, will cheer the lifting of the pay cap. But they will rightly demand the thousands stolen off their pay packets returned.
They will want to know how Labour will fund this, and the billions stolen from public services. If Labour were to cancel all 'PFI' privatisation debt, and send the private profiteers packing, that alone would free up billions.
It's not just the rate of pay that pushes people into poverty. Insecure contracts, no guarantees of hours, and being at the beck and call of the boss can force workers to accept bullying and intimidation – or face losing work.
The programme's ban on zero-hour contracts, right to guaranteed hours – and equal employment rights from day one, including part-timers and temps – begin to address this.
It does need more: putting minimum hours up to and including full-time work, as well as flexibility, in workers' hands, not the bosses'. Corbyn should also add to "equal" employment rights from day one, calling as well for full employment rights from day one, including the right to claim unfair dismissal.
Women and young people are the workers most often forced into insecure, part-time work.
The charter's promises to tackle gender pay discrimination and victimisation of pregnant women are good, but need more detail. In particular, free childcare would help ensure women have access to work.
No doubt bosses will complain and try to resist these reforms. Corbyn and McDonnell must give a clear warning to all firms who try to use attacks on workers to pay for these measures.
If the big companies say they can't afford even these modest reforms, despite their massive profits, then Corbyn should tell bosses we can't afford them, and nationalise their firms under democratic workers' control and management.
Public ownership and big business levies could also fund support for small businesses to implement the policies.
---
Corbyn and McDonnell's 20-point "workers' charter"
Give all workers equal rights from day one, whether part-time or full-time, temporary or permanent – so that all workers have the same rights and protections whatever kind of job they have.
Ban zero hours contracts – so that every worker gets a guaranteed number of hours each week.
Ensure that any employer wishing to recruit labour from abroad does not undercut workers at home – because it causes divisions when one workforce is used against another.
Repeal the Trade Union Act and roll out sectoral collective bargaining – because the most effective way to maintain good rights at work is through a trade union.
Guarantee trade unions a right to access workplaces – so that unions can speak to members and potential members.
Introduce four new Bank Holidays – we'll bring our country together with new holidays to mark our four national patron saints' days, so that workers in Britain get the same proper breaks as in other countries.
Raise the minimum wage to the level of the living wage (expected to be at least £10 per hour by 2020) – so that no one in work gets poverty pay.
End the public sector pay cap – because public sector wages have fallen and our public sector workers deserve a pay rise.
Amend the takeover code to ensure every takeover proposal has a clear plan in place to protect workers and pensioners – because workers shouldn't suffer when a company is sold.
Roll out maximum pay ratios – of 20:1 in the public sector and companies bidding for public contracts – because it cannot be right that wages at the top keep rising while everyone else's stagnates.
Ban unpaid internships – because it's not fair for some to get a leg up when others can't afford to.
Enforce all workers' rights to trade union representation at work – so that all workers can be supported when negotiating with their employer.
Abolish employment tribunal fees – so that people have access to justice.
Double paid paternity leave to four weeks and increase paternity pay – because fathers are parents too and deserve to spend more time with their new babies.
Strengthen protections for women against unfair redundancy – because no one should be penalised for having children.
Hold a public inquiry into blacklisting – to ensure that blacklisting truly becomes and remains a thing of the past.
Give equalities reps statutory rights – so they have time to protect workers from discrimination.
Reinstate protection against third party harassment – because everyone deserves to be safe at work
Use public spending power to drive up standards, including only awarding public contracts to companies which recognise trade unions.
Introduce a civil enforcement system to ensure compliance with gender pay auditing- so that all workers have fair access to employment and promotion opportunities and are treated fairly at work.