Link to this page: https://www.socialistparty.org.uk/issue/492/2540
From The Socialist newspaper, 21 June 2007
Something for everyone at the summer camp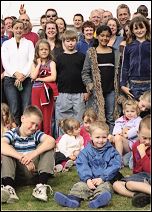 Socialist Party summer camp
Last year I went along to the Socialist Party summer camp. At the time I knew little about socialism, or even politics in general. I decided however that a summer camp would be a pretty laid-back sort of environment for finding out about socialist ideas, so I decided to go along.
Billy Mather, Southampton Socialist Party
I wasn't disappointed. As well as good discussions that people of all ages attended, it was a great opportunity to discuss ideas and questions I had about socialism and the Socialist Party itself on a one-to-one basis with people from all over the country and even some from around Europe.
Discussions were split up between subjects relevant to newer party members or people interested in socialist ideas in one marquee, and discussions on more topical and world issues in the other.
Whatever your level of interest or understanding of socialism, there's something for you to join in with and contribute to if you would like to.
On the last day of the summer camp I decided to join the Socialist Party and I later joined Socialist Students. A year on and I am still learning a lot.
As there's always more to learn I will be going back this year to join in some of the discussions and to catch up with party members and friends from around the country in beautiful Essex countryside.
This year's camp will take place from Friday 24 to Monday 27 August at £35 per adult, £12 per child and £90 for a family. Log cabins are also available.
Phone Jane James on 020 8988 8778 or email janejames@socialistparty.org.uk for more details.
To book your place now, please send a cheque deposit of £10 (payable to the Socialist Party) addressed to Socialist Party Summer Camp, PO Box 24697, London, E11 1YD.
Why not click here to join the Socialist Party, or click here to donate to the Socialist Party.
---
In The Socialist 21 June 2007:

New PM... same old Bosses' agenda

Brown stresses 'continuity' with Blair

Manchester council swings the axe
---
Workplace news

Postal and post office workers demand action

National shop stewards' network

Workers must fight Ford sell-off plans

UNISON Leadership get a roasting from angry delegates

No UNISON witch-hunt!

Greenwich UNISON wins concessions

NUT miss opportunity on pay
---
Socialist Party NHS campaign

Stop Hatchet Hewitt's NHS plans now

Blood centre workers fight job cuts plan
---
Socialist Party news and analysis

Something for everyone at the summer camp

How Cadbury's keeps shareholders sweet...

Arise... Sir Stephen who?
---
War and terrorism

Withdraw occupation troops!

Palestinian infighting blows apart 'national unity' government
---
Socialist students and ISR

Have Scottish students got free education?

Eye-witness from the G8

Why you should join ISR
---
Workplace news and analysis

Deskilling and destaffing - Tube bosses' dream

PCS leadership recommends new deal to members
---
Global Warming

Turning the tide for alternative energy
---
International socialist news

South Africa - third week for public-sector strike
---
Home | The Socialist 21 June 2007 | Join the Socialist Party
---