Link to this page: https://www.socialistparty.org.uk/issue/950/25537
From The Socialist newspaper, 24 May 2017
Blairite warmonger misses chance to fight on Corbyn's popular policies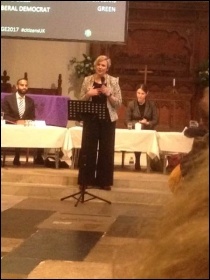 Walthamstow's Labour MP Stella Creasy speaking at a hustings on 17 May photo Nancy Taaffe (Click to enlarge)
Nancy Taaffe, Waltham Forest Socialist Party
The Walthamstow hustings on 17 May was a pretty dull and drab affair. The weather and level of debate were abysmal - the only saving grace was the surroundings, the beautiful 13th century St Mary's Church.
Socialist Party members brought leaflets explaining how the Tories could be kicked out and how Corbyn can win with socialist policies. We were received well.
The Tories, Lib Dems, Labour and Greens were represented - although the Tory candidate never turned up, and it was left to her election agent to put her case.
All four spoke in platitudes, with references to claptrap like 'enabling, empowering and facilitating growth and self-improvement'. In short, no real difference or debate was obvious.
This was mainly down to the reluctance of our Blairite MP, Stella Creasy, to promote Corbyn's recently released anti-austerity manifesto. Her opening pitch made no reference to Jeremy Corbyn; that was left to us.
The church organisers flashed up the first question - what we hoped Walthamstow would look like in five years' time. I said: "Well, that depends who gets in.
"If May gets in, we could lose our hospital, we could lose up to 500 teachers from our schools and we will see more homelessness on our streets. If Corbyn gets in it will be a much more welcoming and attractive place." I got a round of applause at the mention of his Corbyn's name.
Tuition fees
One difference from when I stood as a candidate for the Trade Unionist and Socialist Coalition in 2015 was Creasy's willingness to champion the "idea" of abolishing tuition fees, something she never supported last time. This shows how Corbyn has pushed the debate to the left.
But shamefully, Creasy still defended her decision to vote for bombing Syria when asked a question on refugees.
This event could have been an excellent opportunity to discuss how we can fight for Corbyn's popular policies. Without that, the hustings felt perfunctory. Win or lose, an organised working class fightback is what is needed, not bland Blairite platitudes.
Why not click here to join the Socialist Party, or click here to donate to the Socialist Party.
---
In The Socialist 24 May 2017:
---
What we think

Manchester bombing: unite against terror, war and racism
---
Socialist Party news and analysis

Corbyn in - Tories out

Corbyn's pledge: free education - May's plan: hike fees

May's 'dementia tax' wobble vs Corbyn's extra funds

Theresa 'Lunch Snatcher' May vs Jeremy 'free meals' Corbyn

Work doesn't pay: Tory policies have meant another wages cut

Tory oil spoils v poisonous air

Single market = TTIP
---
Corbyn and Brexit

Corbyn and Brexit: Why a socialist approach to the EU is the only way forward
---
Bias in the bosses' media

The media, May and the general election
---
Socialist Party reports and campaigns

Wave after wave: 5,000 at 'rock festival' Corbyn rally in Hull

Things are changing: 20,000 sing for Corbyn at Wirral rock festival!

Socialist Students call on chicken May to debate Corbyn

Blairite warmonger misses chance to fight on Corbyn's popular policies

March of 5,000 against Tory plans to cut 1,000 Bristol teachers

Labour council's threat to children's care centre

Newcastle: fresh faces and the fight in Labour
---
Workplace news and analysis

Argos: aggressive bosses met by determined strike

Human rights workers strike in support of sacked union members

Window workers walk out after seeing through contract changes

Third strike against driver-only operated trains suspended but dispute continues

Manchester: housing maintenance workers plan strikes every week

PCS DWP conference 2017

Workplace news in brief

National Shop Stewards Network conference
---
International socialist news and analysis

Trump regime faces deepening crisis

International news in brief
---
Socialist readers' comments and reviews

'From Militant to the Socialist Party' - new book now available

Gentrification, class and race in Brixton film

Capitalist journal's warning to the bosses: Marx was right, watch out!

The Socialist inbox
---
Home | The Socialist 24 May 2017 | Join the Socialist Party
Subscribe | Donate | Audio | PDF | ebook
---