Link to this page: https://www.socialistparty.org.uk/issue/957/25873
From The Socialist newspaper, 26 July 2017
From Militant to the Socialist Party - what you thought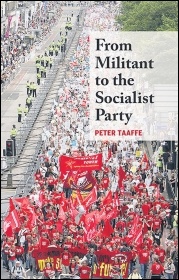 'From Militant to the Socialist Party' by Peter Taaffe, photo (Sarah Sachs-Eldridge) (Click to enlarge)
On 4 July Birmingham South East Socialist Party branch discussed the new book From Militant to the Socialist Party by Peter Taaffe.
I started by briefly outlining my political history and how it related to the history in the book. We discussed the themes that are particularly pertinent to current events, especially the situation with Corbyn and the manifesto versus the Blairite dominated Parliamentary Labour Party and the party machine.
I pointed out that almost everything we have said has been borne out by events.
And now there is a resurgence of interest in socialism, Marxism and Trotskyism. Militant has come back into its own as a description of fighting socialists and we are 'out and proud' about our history.
In the discussion Eamonn talked about voting for Tony Blair in 1997 and how he came across the Socialist Party years later in the early Trade Unionist and Socialist Coalition days. He talked about the failures of New Labour, which betrayed the optimism of 1997. People voted for change but did not get it. He totally fell out with them over tuition fees.
Comrades should read the book, if not in one go then they can use the chapter headings, the chronology and the index to navigate the book. Most of the chapters can be read as standalone chapters. It is also a way of exploring Marxism with concrete recent historical examples.
Claire Wilkins, Birmingham South East Socialist Party
Why not click here to join the Socialist Party, or click here to donate to the Socialist Party.
---
In The Socialist 26 July 2017:
---
What we think

Right wing attempts to use single market against Corbyn
---
Socialist Party workplace news

Barts health strike: Low pay, no way!

Birmingham bin workers stand firm

Bron Afon workers strike against £3,000 pay cut

Court victory for PCS and all trade unions

Tesco's 10% pay increase accompanied by cuts and job losses

Mears workers escalate action to all-out strike

Workers' campaign underway to stop ward closure

Workplace news in brief
---
International socialist news and analysis

Building workers' struggle and the forces of international socialism
---
Socialist Party news and analysis

Abolish tuition fees and student debt!

Education cuts: Tories buckling under public pressure

BBC yawning pay gaps revealed

Homelessness and evictions soar under the Tories

Them & Us
---
Art and the Russian revolution

Russia 1917: how art helped make the revolution
---
Young Socialists

Young people...fight for a future, fight for socialist policies
---
Grenfell Tower

Grenfell survivors tell Tories: "Step down and resign"

Vigil for Grenfell

Tenants' meeting reveals huge anger
---
Socialist Party reports and campaigns

Corbyn visits Southampton on marginal seat tour

Huddersfield A&E closure referred to Jeremy Hunt

From Militant to the Socialist Party - what you thought

Socialist sales at Salford station

Street cleaners support the Birmingham bin strike

'Freedom riders' lobby against violent policing

Council meeting abandoned after undercover policing protest

Education cuts forced back in Hackney

Southampton councillors faced with angry anti-cuts campaigners

Plans to bring A-levels back to Knowsley abandoned
---
Home | The Socialist 26 July 2017 | Join the Socialist Party
Subscribe | Donate | Audio | PDF | ebook
---