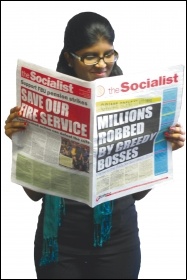 The Socialist carries the best news, analysis and strategy the workers' movement has to offer, photo Socialist Party (Click to enlarge: opens in new window)
Colin John, a new member and retired trade union convenor, turns up regularly on our Saturday campaign stall in Swansea despite his mobility problems. He has also started taking five copies of the Socialist to sell to family and friends during the week.
He recently told us that the postie delivering his Socialist remarked: "That looks interesting, I wouldn't mind having a look after you've finished with it". Colin responded: "Hang on a second, give me a pound and you can have a copy now". "No problem" said the postie and off he went with a copy of the Socialist.
Knowing Colin, his postie better prepare himself for a regular paper and a lot more discussion!
Alec Thraves