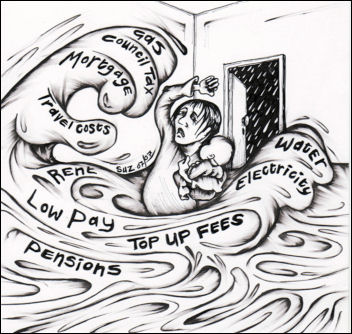 Flooded with Debt, photo Suz www.squashdonkey.co.uk
"IT'S A drop in the ocean," was how one woman responded to the announcement that Hull would receive £2.1 million in immediate flood relief from the government.
Keith Ellis Hull Socialist Party
This is the first instalment of help promised to flood-hit areas by Labour Minister John Healy. However, the Liberal-controlled City Council estimate the cost of the flood damage will be over £200 million.
Whilst other parts of Britain received media coverage, the disaster in Hull and the surrounding area was ignored. Between 5,000 and 10,000 homes were damaged.
Thousands of people are living in temporary accommodation and may do so for up to 12 months as their homes are made habitable.
In three streets there are 300 static caravans sitting on front lawns. No wonder the leader of the council, Carl Minns, called Hull the forgotten city.
On 25 June four inches of rain fell – in just one hour Hull received all of a summer month's average rainfall. By two o'clock the city centre was emptying as workers were sent home before they became stranded. Buses stopped running and all trains were cancelled.
Workers had to drive home through roads that had become rivers. Four by fours driving down Shaftsbury Avenue washed more water into homes. Showing initiative, residents closed the road by parking cars at each end.
People helped each other through the disaster, recovering personal effects and putting up flooded-out neighbours. Emergency and water workers laboured around the clock to contain the disaster.
Bransholme, one of the largest council estates in Europe, and the neighbouring district of Kingswood, saw their situation deteriorate further when the local pumping station flooded. It seems Yorkshire Water forgot to build it higher than the surrounding area.
Over 100 videos show the flooding on www.youtube.com. Type in Hull Floods in the search engine and watch the results.
The floods were caused, according to Environment Agency spokesman Rob Walsh, by the drains' failure to cope with the rain. The people in Hull deserve some answers. Will the insurance companies pay up and on time? Will the government provide enough money to get Hull back on its feet?
Will Yorkshire Water replace the drains so they can cope with heavy rainfall? The Labour government faces a simple choice between human need and the profits of big business.
So which will come first?