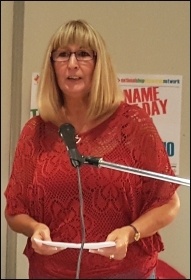 Amy Murphy speaking at the NSSN rally, 10.9.17, photo Neil Cafferky (Click to enlarge: opens in new window)
Reps and activists from five Usdaw branches came to a public meeting in Leeds held to promote the election campaign of Broad Left candidate for Usdaw president, and Socialist Party member, Amy Murphy on 17 January.
Amy has been visiting workplaces and speaking at branches across the country during the union's presidential and executive council elections, receiving a great response.
This carried through to the meeting where conditions in a number of Usdaw organised workplaces were discussed. And the meeting took place before it was announced that Tesco is planning to cut 1,700 shopfloor workers.
Attendees agreed the union needs a culture change, to one that actively challenges the attacks of company management on our members from one that seems to just accept management diktats. Electing an executive council and president that are prepared to challenge the status quo is the first step to doing this.
Several new members signed up to the Broad Left following the meeting.
Iain Dalton, Usdaw Leeds Private Trades branch vice chair (personal capacity)