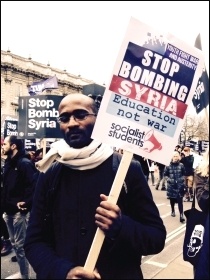 Marching against bombing Syria, London 12.12.15, photo J Beishon (Click to enlarge: opens in new window)
Around 200 people turned out at short notice in Hull on 14 April to protest against the bombing of Syria.
Speakers included Socialist Party member Mike Whale, secretary of Hull Trades Council, who drew enthusiastic applause when he clearly made the link between the struggle against imperialist intervention in the Middle East and the fight against Tory austerity at home.
We sold out of the Socialist; dozens of copies of the 'Hull Socialist' were distributed, and there was an enthusiastic response, especially from young people, to our opposition to the massive proposed cuts to Hull College as well as against Trump and May's warmongering.
Roy Fent