Link to this page: https://www.socialistparty.org.uk/issue/1006/27813
From The Socialist newspaper, 22 August 2018
MOJ pay offer: robbing Peter to pay Peter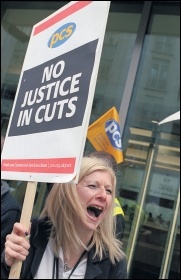 Members of public sector union PCS fighting cuts in the justice sector, photo Paul Mattsson (Click to enlarge)
Dave Bartlett, PCS MOJ group executive member (personal capacity)
Members of PCS in the Ministry of Justice (MoJ) have just concluded a consultation exercise with regard to a new offer and contract called MEP (modernisation employment programme). It is almost certain that this so-called "modernisation offer" will be rejected by a huge majority in a ballot which will end on 30 August.
Contrary to the myths and lies being put out by the national press, it's anything but 9% over the next three years. The offer is a five-year proposal over which the average pay increase would be 2.2%. There is no opt-out clause and in return for the so-called 3%, MoJ expects members to work a 38-hour week (current standard is 37, while some work 35).
Employees might be asked to work on Saturdays, bank holidays, lates and earlies. Occupational sick pay will be reduced from six months full pay and six months part pay to five and five.
There is no new money. In return for the so called 3%, overtime payments will be slashed and what remains will be at flat rate and non-pensionable. Mileage allowance will be cut to 25p a mile maximum. This is a package aimed for the future in which MoJ wished to slash the number of employees by 8,000. The vast majority who remain will relocate to "regional business centres" (call centres).
The reaction to these proposals speaks for itself. 1,200 have now joined the union.
If the employer fails to improve on this offer, or tries to impose it, then the mood is there to build for industrial action.
We appreciate the support and help that we are getting in MoJ from other branches and groups. It is important for members across the whole union that we defeat these attacks on our pay and conditions to stop other departments in their tracks trying to do the same.
We are working closely with the national disputes committee and want the national union to help us explore the opportunities to coordinate campaigning on this year's pay with other groups. This can put maximum pressure on the Treasury to fund above-inflation pay rises for our members.
Donate to the Socialist Party
Coronavirus crisis - Finance appeal
The coronavirus crisis has laid bare the class character of society in numerous ways. It is making clear to many that it is the working class that keeps society running, not the CEOs of major corporations.
The results of austerity have been graphically demonstrated as public services strain to cope with the crisis.
The government has now ripped up its 'austerity' mantra and turned to policies that not long ago were denounced as socialist. But after the corona crisis, it will try to make the working class pay for it, by trying to claw back what has been given.
The Socialist Party's material is more vital than ever, so we can continue to report from workers who are fighting for better health and safety measures, against layoffs, for adequate staffing levels, etc.
Our 'fighting coronavirus workers' charter', outlines a programme to combat the virus and protect workers' living conditions.
When the health crisis subsides, we must be ready for the stormy events ahead and the need to arm workers' movements with a socialist programme - one which puts the health and needs of humanity before the profits of a few.
Inevitably, during the crisis we have not been able to sell the Socialist and raise funds in the ways we normally would.
We therefore urgently appeal to all our viewers to donate to our special coronavirus appeal.
---
In The Socialist 22 August 2018:
---
What we think

Antisemitism smears against Corbyn are battering ram of the right
---
News

Blairites go on saving Tories - boot them all out!

Nationalise rail! Tories out!

Bosses' pay up a fifth while workers' pay falls ...

Birmingham Prison crisis: a catastrophe of cuts and privatisation

Johnson's burqa outburst highlights racist Tory hypocrisy

Tories fear housing anger... but offer no solutions
---
Workplace

Strategic discussion needed in civil servants' union after pay ballot

MOJ pay offer: robbing Peter to pay Peter

Victory: NHS workers say no to privatisation

London cleaners' strike: 'Pay us a living wage!'

Liebherr strike for better pay

Workplace news in brief
---
International socialist news and analysis

Argentina: The struggle for women's lives has been painted green!

Huge anti-government demos in Romania

Morandi Bridge disaster - private profit to blame
---
Socialist Party reports and campaigns

Waltham Forest Labour council votes to close library - campaign goes on

Fight Leicester NHS cuts plan

Keep Middlesbrough hospital staff in the NHS

Newcastle fans protest against Mike Ashley

The Socialist sales drive - how can you help?

End Runcorn school PFI rip off

Huge but chaotic Brighton Pride needs to be politicised

Building Fund boost

Why I joined the Socialist Party: "I was searching for an alternative to this system"

Revolt and Rebellion West London walk success
---
Opinion

Ahed Tamimi - worldwide symbol of self-esteem in face of oppression

Union bureaucracies, soviets and workers' power

The Socialist Inbox
---
Home | The Socialist 22 August 2018 | Join the Socialist Party
Subscribe | Donate | Audio | PDF | ebook
---