Link to this page: https://www.socialistparty.org.uk/issue/1010/27960
From The Socialist newspaper, 19 September 2018
Huddersfield Socialist Party opposes racist EDL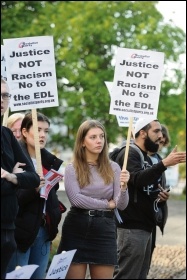 Protesting against the EDL in Huddersfield, 5.9.18, photo by Huddersfield Socialist Party (Click to enlarge)
Protesters joined a call to action by Huddersfield Socialist Party to oppose a demonstration by the far-right English Defence League (EDL) on 5 September at the town's magistrates' court, where 31 predominantly Asian Muslim defendants faced charges of sexual crimes against young women and girls.
Sexual crime is a vile stain on our society and we stand in solidarity with all victims everywhere. It's clear that sexual abuse can occur wherever conditions allow for it - in schools, churches, football clubs, the entertainment industry and so on.
But instead of offering any genuine solutions to this complex issue, the EDL offers only racist scapegoating of one section of the community.
The importance of our counter-protest was shown by the abusive shouting of the dozen or so EDL members present, and their ostentatious videoing of everyone and everything - particularly of any Asian people who happened to be passing by.
Although unpleasant, no serious incidents occurred. Our presence, slightly outnumbering the support of the EDL, meant that they were not given free rein with the national media covering these trials.
We welcome the support we received on the day from the working class people of Huddersfield, as well as Labour supporters, Greens and anarchists, who supported this action alongside members of the Socialist Party.
We need a serious labour and trade union movement mobilisation against the far right. Huddersfield Socialist Party intends to continue to play its part in building a mass movement to challenge racism wherever it manifests.
Huddersfield Socialist Party
Donate to the Socialist Party
Finance appeal
The coronavirus crisis has laid bare the class character of society in numerous ways. It is making clear to many that it is the working class that keeps society running, not the CEOs of major corporations.
The results of austerity have been graphically demonstrated as public services strain to cope with the crisis.
The Socialist Party's material is more vital than ever, so we can continue to report from workers who are fighting for better health and safety measures, against layoffs, for adequate staffing levels, etc.
We must be ready for the stormy events ahead and the need to arm workers' movements with a socialist programme - one which puts the health and needs of humanity before the profits of a few.
Inevitably, during the crisis we have not been able to sell the Socialist and raise funds in the ways we normally would.
We therefore urgently appeal to all our viewers to donate to our Fighting Fund.
---
In The Socialist 19 September 2018:
---
Labour Party conference

Blairites must go

The struggle to transform Labour

Momentum's 'The World Transformed' blocks discussion on Liverpool council struggle
---
Socialist Party news and analysis

Big drugs companies dodge £3 billion pounds in tax

250,000 families in "non-decent" homes

Bezos housing hypocrisy

Rail rip-off reversal

What we saw
---
International socialist news and analysis

South Africa: new workers' formations herald fightback against Ramaphosa's capitalist agenda

Catalonia: 'Diada' 2018 an immense show of strength for republic
---
Socialist Students

Mobilise mass student fightback

Socialist Students campaigns at Hull freshers fair
---
Workplace news and analysis

POA walkout over government failure to make prisons safe

RMT strikers ready to up the ante over rail safety

University pay ballot: vote yes for strike action!

Birmingham home carers' protest demo

York health workers say no to privatisation

Liverpool airport workers demand decent pay

Leicester UCU fights redundancies
---
Socialist Party reports and campaigns

Join our Socialist sales drive for issue 1011

March to save threatened Liverpool Women's Hospital

Socialists and campaigners protest Leicester NHS cuts

Hundreds of Newcastle United fans attend Mike Ashley Out meeting

Huddersfield Socialist Party opposes racist EDL

Lewisham: binning the rates rise
---
Opinion

How Irish strikers fought apartheid - and establishment anti-apartheid leadership

The Socialist inbox
---
Home | The Socialist 19 September 2018 | Join the Socialist Party
Subscribe | Donate | Audio | PDF | ebook
---