Stop witch-hunt of socialists at Brum Uni! Standing up to racism is not harassment!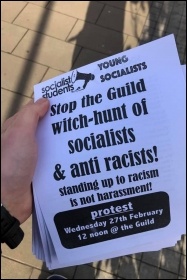 Stop the witch-hunt of Brum Socialist Students, photo by Birmingham Socialist Students (Click to enlarge: opens in new window)
Birmingham Socialist Students statement
On 1 February, the Guild of the University of Birmingham formally de-recognised the University of Birmingham Socialist Students society in an attack on democracy and free speech on campus.
The background to this decision was a false and now retracted accusation of anti-Semitism levelled at Socialist Students following the 10 October 2018 Birmingham Socialist Students meeting on 'antisemitism, Israel-Palestine, and the fight for socialism'.
The person who made the charge of antisemitism attended, formally apologised, and stated he agreed with the majority of the position put by the speaker.
However, the complainant had also formally accused Birmingham Socialist Students of harassment. Two Guild officers present at the meeting itself raised no suggestion of harassment or anti-Semitism and their evidence was not considered as part of the hearing.
They had officially stated they were there to intervene if they believed anything went wrong or offensive. They made no 'Intervention' until the accusations and complaints were made two months later.
The accusation of antisemitism was found to be completely untrue and was dropped by the Guild. However, the accusation of harassment remained.
This accusation was based on a student, who was not a committee member of Socialist Students, rightly calling out racist posts on social media made by the complainant. In these posts the complainant had publicly laughed at images of a Palestinian child and women being shot by a sniper. Socialist Students as a student group were subsequently deemed to have harmed his 'wellbeing' and 'mental health'.
We maintain that the meeting was properly chaired, and that the single brief exchange was in fact prompted by the complainant calling another student in the room racist and antisemitic for have shown support for Jeremy Corbyn.
On 25 January 2019, Birmingham Socialist Students was sent a letter by the Guild demanding a written public apology addressed to the complainant. This was under threat of Birmingham Socialist Students being derecognised by the Guild.
Birmingham Socialist Students appealed this unjust decision within the five working days granted them. Extraordinarily, however, the President of the Guild then rejected the appeal, effectively refusing the appeal its due process.
We believe the de-recognition of Birmingham Socialist Students society by the University of Birmingham Guild of Students and the decision by the Guild President to reject their appeal, represents an attack on political democracy and freedom of speech.
If allowed to stand, this attack could set a dangerous precedent for attempts to silence and exclude student activists on campus, at a time when students are looking to get organised against cuts and marketisation on campus, tuition fees and debt, and soaring vice chancellor and management salaries on campus.
Young people can and should be able to organise collectively in fighting racism and discrimination in all its forms.
We call on students and staff to send any messages of solidarity to Birmingham Socialist Students in our campaign for reinstatement as an officially recognised political society at the University of Birmingham – [email protected]
We also encourage you to write with your concerns and and protest emails to the Guild President at [email protected]
Protest: Wednesday 27 February at 12 noon, outside the Guild of Students, University of Birmingham, Edgbaston Park Road, Birmingham B15 2TU