Editorial of the Socialist issue 1038
Tories facing electoral meltdown – but only a socialist alternative to austerity can finish them off
With two weeks to go before local elections in 271 councils in England, the Tories are facing the loss of many council seats. An article by journalist Harry Phibbs on the "Conservative home" blog was headlined: "'We're doomed': The mood of Conservative councillors facing the electorate varies from nervousness to despair". Phibbs wrote: "Seasoned campaigners were shocked by the level of anger they encountered on the nation's doorsteps – invariably from Brexiteers who felt betrayed".
The Tories' deep Brexit crisis is repelling much of their support base, but also they are not immune from anger at the ongoing austerity, which has meant huge cuts in services and jobs in local authorities.
Then, just three weeks after those elections, another electoral battering for the Tories looks increasingly likely. Elections for the European parliament are scheduled for 23 May if there is no EU withdrawal deal agreed before then.
Over the last week the Tories have fallen in the opinion polls with the result that Labour has opened up a significant lead. This is part of the political climate in the run-up to the above two elections, and it's a period that could also include a third election at any time, a general election, so urgently needed to sweep the rotten Tory government out of power.
"Disaster"
Both the local and the likely European elections seem certain to worsen the crisis in the Tories which is already at a colossal level. Media commentators and leading Tories are predicting that the Tories could suffer their lowest ever vote if the European election does go ahead in the UK. Coming almost a full three years after the 2016 referendum vote to leave the EU, it will be seen as farcical and galling by a large layer of voters.
Foreign secretary Jeremy Hunt agreed with a BBC journalist who put it to him that fighting the European election would be a "disaster" for the Tories. Children's minister Nadhim Zahawi went so far as to say that going into the EU elections "would be the suicide note of the Conservative Party".
This prospect was one of the reasons for the scale of the rebellion by Tory MPs against Theresa May asking the EU for a delay in Brexit until the end of June. A majority of the party's MPs, 177 of them, either voted against the extension, abstained or didn't vote, so it was only agreed through the weight of opposition votes. In practise it then became an extension – if necessary – to the end of October, at the insistence of the EU.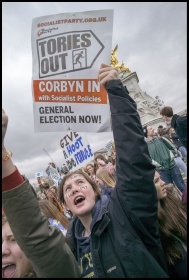 Climate change protest, London, 15.3.19, photo Paul Mattsson (Click to enlarge: opens in new window)
If there is no eleventh hour deal to prevent an election on 23 May, a layer of usual-Tory voters will look away from them in disgust, turning instead to the likes of Ukip, as happened in the 2014 European elections when Ukip topped the poll in England and Wales.
Since then, former Ukip leader Nigel Farage has formed his new 'Brexit Party', to which eleven Ukip MEPs (Members of the European Parliament) have defected. Overall Ukip has lost the allegiance of nearly all its MEPs who were elected five years ago – 20 out of its 24 MEPs have left the party. But notwithstanding this degree of collapse, the depth of the Tory crisis is likely to benefit Ukip and the Brexit Party if the European election goes ahead.
On the 'Remain' side, the new Change UK party, formed by defectors from the Tories and the right of Labour, is hoping it can become registered and also pick up votes on 23 May. European elections being based on a form of proportional representation gives them added hope. But the Lib Dems are also strongly pro-Remain and this isn't helping their poll ratings. The main advantage Change UK will have over the Lib Dems will be to present themselves as something new, in the way that Macron did two years ago in France. Macron's popularity has halved since then.
Would a European election become a proxy EU referendum? It would no doubt be seized on by both right-wing Brexiters and ardent Remainers to try to turn it into one, inflaming tensions and polarisation. However, a recent YouGov poll indicated that only half of those who voted 'Leave' in 2016 would bother to vote on 23 May, so the result wouldn't reflect the balance of attitudes today towards EU membership.
Neither would it be any indication of the result of a general election; for instance Ukip received 27% of the vote in the 2014 EU election but went on to get only 1.8% in the general election in 2017.
Tory turmoil
As said above though, both the local elections and a European election can throw the Tories into even greater turmoil than they're already in. Conservative Party rules state that following the failure to remove Theresa May in a vote of confidence last December, a new attempt can't take place until 12 months later. But such is the level of infighting in the party that two former chairmen of the Tory backbench '1922 committee' recently said that these rules could be changed in order to bring forward a new move against May.
The Tories are tearing themselves to pieces and this will sooner or later bring to an end their government. This doesn't mean, however, that Jeremy Corbyn along with his hundreds of thousands of supporters in Labour, and millions more outside Labour, can simply wait for this horror story to play out.
Labour re-won its Newport West parliamentary seat in the 4 April byelection, but its reduced majority was a warning sign. In the May local elections Labour-led councils will face great anger at brutal cuts in services which they shouldn't have been making. In a European election some anger will be directed at Labour by working class people if Corbyn doesn't project out a clear, bold, pro-working class Brexit alternative.
Getting out a socialist message in those elections is vital and necessary preparation for Corbyn's Labour to not just win a general election, but to win it with a large enough majority to be able to actually deliver the socialist policies that the overwhelming majority in society so desperately need.