Link to this page: https://www.socialistparty.org.uk/issue/1046/29234
From The Socialist newspaper, 12 June 2019
Fight the closures, save every job!
Join the fightback at the NSSN conference
Nationalise threatened plants and stores
Tom Baldwin, Bristol Socialist Party
Every week seems to bring a new story of factory closure; another chapter in the destruction of British manufacturing.
Workers are being made to pay the price of economic uncertainty, including around Brexit, as bosses seek bigger profits elsewhere.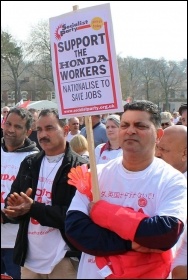 2000 people marched through Swindon in protest at Honda's plan to close its plant in the town, March 2019, photo S. German (Click to enlarge)
Ford's plans to close their engine plant in Bridgend adds to a long list of threatened sites. Nissan in Sunderland, Honda in Swindon and British Steel in Scunthorpe have all announced closure plans this year.
Each of these threatens tens of thousands of relatively well-paid jobs and devastation to the local communities.
Retail workers are being hit too as the crisis in the high street continues. The number of empty shops rose by 7,500 last year. Big chains including M&S, Debenhams and Boots have announced store closures with thousands more job losses.
Workers will fight to defend their jobs. Thousands joined Unite the Union's march through Swindon in defence of Honda workers. The fightback against the jobs massacre must be built and coordinated. This includes preparing for industrial action wherever necessary.
Building the fightback will be one of the key discussions of the National Shop Stewards Network (NSSN) conference on 6 July this year. The NSSN is a rank-and-file trade union body, founded in 2006 by Bob Crow, the late leader of the transport workers' union RMT.
Speakers
Speakers at the conference include Paddy Brennan, Unite convener of the Honda Swindon plant. You can book your place today.
The decimation of jobs must be stopped. The Socialist Party calls for the nationalisation of threatened plants and shops to save jobs. Workers' livelihoods will only be safe from the designs of greedy bosses if we take the decisions out of their hands.
Taking the biggest businesses into public ownership under democratic workers' control would allow the economy to be planned to serve the needs of the many, not the profits of a few.
NSSN 2019 conference
Saturday 6 July, 11am - 4.30pm
Conway Hall, 25 Red Lion Square, London WC1R 4RL
Pay on the day or you can send us a cheque: make out to 'National Shop Stewards Network' and post to NSSN, PO Box 54498, London E10 9DE. You can register in advance by [email protected]
Donate to the Socialist Party
Finance appeal
The coronavirus crisis has laid bare the class character of society in numerous ways. It is making clear to many that it is the working class that keeps society running, not the CEOs of major corporations.
The results of austerity have been graphically demonstrated as public services strain to cope with the crisis.
The government has now ripped up its 'austerity' mantra and turned to policies that not long ago were denounced as socialist. But after the corona crisis, it will try to make the working class pay for it, by trying to claw back what has been given.
The Socialist Party's material is more vital than ever, so we can continue to report from workers who are fighting for better health and safety measures, against layoffs, for adequate staffing levels, etc.
When the health crisis subsides, we must be ready for the stormy events ahead and the need to arm workers' movements with a socialist programme - one which puts the health and needs of humanity before the profits of a few.
Inevitably, during the crisis we have not been able to sell the Socialist and raise funds in the ways we normally would.
We therefore urgently appeal to all our viewers to donate to our Fighting Fund.
---
In The Socialist 12 June 2019:
---
Safe homes for all

Fire tears through Barking flats - cladding off now!

Grenfell two years on - Still fighting for safety and justice
---
Nationalise to stop closures

Ford closure announcement must be met with united response of defiance

Nationalise Ford to prevent closure

Fight the closures save every job!
---
News

Widespread condemnation of horrifying, violent, homophobic assaults

Terrible child murders linked to cuts

Tory drug hypocrisy
---
Workplace news

Scottish airport strikes - fight for better pay and pensions

Stagecoach strike - bus workers show how it's done

Socialists in Unison hold positions in elections

South Western Railway guards to strike again

Socialist Party members make big impact at trades council conference

Southampton hospital workers win

Sellafield nuclear workers' strike
---
International socialist news and analysis

Southern Ireland elections

Sudan: Military crackdown to break revolution

Nigeria: Stop police harassment of Abbey and Azeez!
---
Socialist Party reports and campaigns

D-Day for fighting Trump attack on NHS

Edmonton joins Enfield North Labour in supporting 'no cuts' fightback strategy

Save Essex libraries protest
---
Opinion

TV Review: Chernobyl - Workers' heroism vs sclerotic Stalinism

The Socialist Inbox
---
Home | The Socialist 12 June 2019 | Join the Socialist Party
Subscribe | Donate | Audio | PDF | ebook
---