Lincolnshire health visitors' solidarity rally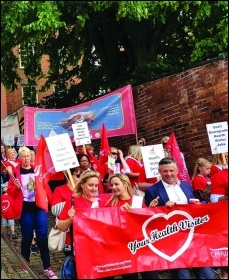 Lincolnshire health visitors' solidarity rally August 2019, photo Lindsey Morgan (Click to enlarge: opens in new window)
Lindsey Morgan, Leicester Socialist Party
As reported in the last issue of the Socialist, Lincolnshire health visitors are planning further strike action after a failure to increase pay in line with other health visitors equates to a loss of about £2,000 a year. The workers are also on strike due to the erosion of their professional responsibilities which would adversely impact vulnerable families.
Unite the Union arranged a solidarity march and rally on 17 August in Lincoln – attended by nearly 300 people – where a series of speakers discussed the importance of health visitors, the history of trade union struggle, and the political context of further cuts to vital services such as the NHS.
The most inspirational speakers were the strikers themselves who spoke of a heavy workload and a heavy responsibility and who had been forced to strike by the intransigent Tory-run Lincolnshire County Council.
Socialist Party members attended from across the east midlands. We brought our banners on the march, and spoke with a range of people angry at the treatment of the health visitors. We also gave solidarity greetings from the National Shop Stewards Network.
Many spoke at the attack on health visitors' terms and conditions within the context of the all-out assault on the working class by capitalist austerity measures.
We sold around 25 copies of the Socialist and met a number of people interested in finding out more about the Socialist Party. The paper sales were aided by the article in the paper on the health visitors' strike.
The attacks on the NHS and council services must end. These battles in public services need to be linked more cohesively through national strike action. This could unite all public service workers against cuts and privatisation and move us closer to the generalised working-class action needed to push out the pathetic Tories!