Link to this page: https://www.socialistparty.org.uk/issue/1058/29646
From The Socialist newspaper, 2 October 2019
Bromley libraries strikers proved right - private company admits job cuts!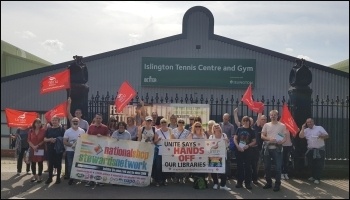 Bromley library workers protesting outside GLL tennis centre in Islington, supported by the NSSN and members of the Socialist Party, 21st August 2019, photo Isai Priya
Socialist Party reporters
Unite union members employed by Greenwich Leisure Limited (GLL) in Bromley, south London, have been on indefinite strike since 6 June, in defence of the library service.
Tory-run Bromley council handed the service over to GLL as part of its plans to become an "enabling authority" where, rather than provide services, the council privatises everything and simply manages the contracts.
Unite ran a campaign opposing the transfer and predicted that it would lead to job cuts. GLL and Bromley denied the union claims and, as recently as a month ago, threatened to sue Unite regional officer and Socialist Party member Onay Kasab for libel and defamation unless the claims were withdrawn.
Unite refused - and has been proved right. GLL is now proposing to cut 30 library staff. Yet library workers are on strike precisely because the service is at breaking point due to unfilled vacancies!
This cut will mean library closures. GLL has once again been exposed. Despite its mission statements claiming to be a "worker-led social enterprise", in truth it is no better than any profit-chasing private company. This was proved during negotiations on 19 September when the company admitted it had "bid cheap" in order to win contracts and then make savings by cutting staff.
This is a campaign that the strikers and the union are determined to win, as shown by the strikers who remain resolute after being on strike for so long. There now is a tremendous responsibility on the trade union movement to back this dispute to a victory - it is currently the longest-running all-out indefinite strike in the country and can serve as a tremendous example of how to fight cuts.
The campaign, as well as defending jobs, is calling for the service to be in-sourced with immediate effect.
Donations to the campaign can be made via the campaign crowd funding page: Search 'Bromley library strike on justgiving.com
Donate to the Socialist Party
Finance appeal
The coronavirus crisis has laid bare the class character of society in numerous ways. It is making clear to many that it is the working class that keeps society running, not the CEOs of major corporations.
The results of austerity have been graphically demonstrated as public services strain to cope with the crisis.
The government has now ripped up its 'austerity' mantra and turned to policies that not long ago were denounced as socialist. But after the corona crisis, it will try to make the working class pay for it, by trying to claw back what has been given.
The Socialist Party's material is more vital than ever, so we can continue to report from workers who are fighting for better health and safety measures, against layoffs, for adequate staffing levels, etc.
When the health crisis subsides, we must be ready for the stormy events ahead and the need to arm workers' movements with a socialist programme - one which puts the health and needs of humanity before the profits of a few.
Inevitably, during the crisis we have not been able to sell the Socialist and raise funds in the ways we normally would.
We therefore urgently appeal to all our viewers to donate to our Fighting Fund.
---
In The Socialist 2 October 2019:
---
What we think

Capitalist elite split - fight for a government in the interests of the working class

40 years on: Mandatory reselection more vital for Labour than ever
---
Brexit

Is a workers' Brexit deal possible?
---
Fresher's fairs

Freshers fairs 2019: Students impatient for change and determined to fight
---
News

Battered Boris must go... and all the Tories with him!

Nationalisation only way to safeguard jobs and skills at Wrightbus

Labour's mass social housing pledge

Them&Us
---
Workplace news

Royal Mail dispute: Workers determined to fight bosses' injustices

PCS general secretary election - Support Marion Lloyd

Bromley libraries strikers proved right

Hull: Construction workers' walkout forces employer to back down

Crown Paints dispute - union senior steward speaks out

End low pay - support Salford Royal security workers' action

Karro Foods victory Hull
---
International socialist news and analysis

Catalonia independence movement two years on

Egypt: Street protests challenge Trump's favourite dictator
---
Socialist Party reports and campaigns

Socialism 2019: An unmissable event

Now is the moment to join the Socialist Party

Financing socialist struggle
---
Reader's opinion

The Socialist inbox

Active and strong member of Socialist Party reaches 80
---
Home | The Socialist 2 October 2019 | Join the Socialist Party
Subscribe | Donate | Audio | PDF | ebook
---