Link to this page: https://www.socialistparty.org.uk/issue/1062/29794
From The Socialist newspaper, 30 October 2019
Selling the Socialist
Just some of the events where the Socialist newspaper was sold in the past days...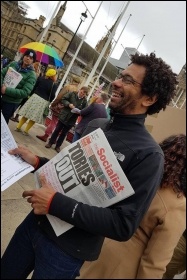 Wherever working-class people are fighting back, expect to find the Socialist on sale, photo London Socialist Party (Click to enlarge)
A week selling the Socialist in Cornwall
With time on my hands, when the depression allows, I am able to spend some time five days a week selling the Socialist newspaper. This is a week in my life on the streets.
Friday: I go into the centre of Truro. When I'm successful selling the Socialist, I encourage people to give their details to join the fight for socialism. Quiet day. Heavy showers don't help, and I only manage to sell two.
Saturday: Back in Truro. The weather is the same, so no one wants to chat. I do manage to sell five.
Monday: I catch the train to Falmouth. Standing outside a well-known store, between showers, I manage to sell four. Despite the weather, those who bought wanted to talk. The talk was about Brexit and the need for a general election.
Tuesday: Train to Penzance. This is my favourite place, with some wonderful characters.
There also seems such a high rate of wasted youth - and adulthood. An epidemic of people with drink and drug problems, and homelessness. Although it might just be that the problems are more open in Penzance.
Some of the homeless stop and talk. Their stories are quite moving. In all, I sell six papers. Penzance leaves me drained but determined.
Wednesday: Back in Truro, the last day of my week. Fine weather, so people are stopping and talking. The main topic is again Brexit.
We agree that under the Tories, no matter what the Brexit deal, the working class will suffer; we will pay the price of capitalism. I sell six papers and collect details from two people.
All in, it's been a good week - 23 papers and £19.27 for the Socialist Party's fighting fund. With the stories I've heard, no matter what abuse I may get, I will be determined to do my bit for the fight to rid us of the evil that is capitalism, and fight for a socialist society everywhere.
Trevor Hall, Cornwall Socialist Party
Leicester NHS film
We sold 19 papers at a showing of 'Under the Knife' organised by Save Our NHS Leicestershire on 14 October. There were about 90 people there. Many bought a copy of the Socialist newspaper.
It helped having Steve Score's article on front page, especially as he is a well-known local working-class fighter. We also were able to speak in the discussion at the end of the film, raising the need for a trade union and community mobilisation to back Corbyn's anti-austerity policies.
Heather Rawling, Leicester Socialist Party
Hull Kurds demo
We sold 26 copies of the Socialist at the Hull Trade Union Council solidarity rally against Turkey's military intervention in Kurdish Syria. Around 150 to 200 local Kurds and trade unionists marched from Spring Bank into the city centre Victoria Square.
Philip Culshaw, Hull Socialist Party
Donate to the Socialist Party
Coronavirus crisis - Finance appeal
The coronavirus crisis has laid bare the class character of society in numerous ways. It is making clear to many that it is the working class that keeps society running, not the CEOs of major corporations.
The results of austerity have been graphically demonstrated as public services strain to cope with the crisis.
The government has now ripped up its 'austerity' mantra and turned to policies that not long ago were denounced as socialist. But after the corona crisis, it will try to make the working class pay for it, by trying to claw back what has been given.
The Socialist Party's material is more vital than ever, so we can continue to report from workers who are fighting for better health and safety measures, against layoffs, for adequate staffing levels, etc.
Our 'fighting coronavirus workers' charter', outlines a programme to combat the virus and protect workers' living conditions.
When the health crisis subsides, we must be ready for the stormy events ahead and the need to arm workers' movements with a socialist programme - one which puts the health and needs of humanity before the profits of a few.
Inevitably, during the crisis we have not been able to sell the Socialist and raise funds in the ways we normally would.
We therefore urgently appeal to all our viewers to donate to our special coronavirus appeal.
---
In The Socialist 30 October 2019:
---
What we think

Anti-austerity, socialist policies can be a winning formula

Mass protests rock the globe
---
News

Tories out now. Bin Boris. Corbyn can win with socialist policies!

39 migrants found dead in Essex lorry container

Argos Christmas bonus cut
---
Wall Street Crash

The 1929 Wall Street Crash: When the capitalist system was on its knees
---
Workplace news

PCS union election: For a fighting democratic general secretary

PCS: Support Marion Lloyd - a history of workers' struggle and a programme for the future

McDonald's - Striking to end low pay

London - 'autumn of discontent'

RMT election: Fight the cuts, vote for Jared Wood

Uni workers' pay and pension strike ballot
---
Butterfields

How working-class tenants beat Gentrification
---
Black history

Black Liberation... Only possible through socialist struggle

Obituary - Bob Lee: 1954 - 2019
---
International socialist news and analysis

Chile in revolt
---
Socialist Party reports and campaigns

Enfield North socialists lobby candidate stitch-up

Selling the Socialist

Donate to fund the fightback at Socialism 2019

Chile protests - London solidarity rally
---
Reader's opinion

Life in the gig economy

Film reviews: Sorry We Missed You by Ken Loach

TV: The Accident - Will capitalism be exposed in upsetting, true-to-life drama?

Opinion: Labour Party is structured to block left councillors

The Socialist inbox
---
Home | The Socialist 30 October 2019 | Join the Socialist Party
Subscribe | Donate | Audio | PDF | ebook
---