Link to this page: https://www.socialistparty.org.uk/issue/1070/30137
From The Socialist newspaper, 22 January 2020
Police issue counter-terror guidance against campaigners
Protesting is not terrorism
Martin Powell-Davies, teacher and Socialist Party national committee member
The Guardian newspaper has revealed that the logos of over eighty different left-wing, environmental and animal rights groups - including that of the Socialist Party - have been included in a guidance document circulated by Counter Terrorism Policing.
The inclusion of these logos, alongside those of fascist and white supremacist groups, understandably drew an angry reaction from campaigns such as Greenpeace, the Campaign for Nuclear Disarmament and Extinction Rebellion (XR).
Socialist Party members are also angered by any implication that our determination to build a socialist society to end war, poverty and climate change should be considered 'extremist'. However, particularly after the revelations of undercover spying on our members and others by the Special Demonstration Squad, political policing directed against socialists and trade unionists comes, of course, as no surprise.
Should this guidance document be taken as a serious threat or not? Counter Terrorism Policing tried to play down the issue, claiming that the guidance was simply to help people distinguish between "legitimate protest groups" and "extremists." But definitions of 'legitimate' and 'extreme' can change - especially under this Conservative government.
For example, when it was revealed that XR had been specifically listed as an 'extremist' organisation in their separate guidance, South-East Counter Terrorism Policing apologised for making an "error of judgement." However, Priti Patel, the new home secretary, while accepting that XR was a "protest organisation" rather than a terrorist group, made clear that the government was "constantly looking at individuals and groups", and that "everything has to be based in terms of risk to the public."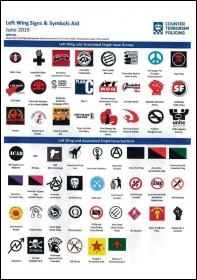 The page in Counter Terrorism Policing's guide listing groups including the Socialist Party (Click to enlarge)
Prevent
These documents were produced as part of the 'Prevent' strategy, supposedly designed to 'prevent people from being drawn into terrorism'. However, it is the wrong strategy to meet that objective. It dissuades teachers and young people from openly discussing issues, and risks increasing the alienation that leads some people into the dead-end of individual terrorism.
The documents could mark a worrying step towards widening Prevent's scope to include a very different objective - to clamp down on anti-government protest.
The legislation already refers to "not just violent extremism but also non-violent extremism." It doesn't take too much imagination to see this being directed at climate change protestors or trade unionists organising strikes and mass demonstrations.
If left unchallenged, both school students and their teachers may start to be questioned and pressurised about their support for socialist parties and campaigns. Left-wing trade unionists might even face being barred from their posts in schools and other public services.
Trade unions should be demanding that the government withdraws these documents and the Prevent strategy, and make clear that they will act to defend members organising against the extreme and damaging effects of capitalism on millions of people and our planet.
Donate to the Socialist Party
Finance appeal
The coronavirus crisis has laid bare the class character of society in numerous ways. It is making clear to many that it is the working class that keeps society running, not the CEOs of major corporations.
The results of austerity have been graphically demonstrated as public services strain to cope with the crisis.
The government has now ripped up its 'austerity' mantra and turned to policies that not long ago were denounced as socialist. But after the corona crisis, it will try to make the working class pay for it, by trying to claw back what has been given.
The Socialist Party's material is more vital than ever, so we can continue to report from workers who are fighting for better health and safety measures, against layoffs, for adequate staffing levels, etc.
When the health crisis subsides, we must be ready for the stormy events ahead and the need to arm workers' movements with a socialist programme - one which puts the health and needs of humanity before the profits of a few.
Inevitably, during the crisis we have not been able to sell the Socialist and raise funds in the ways we normally would.
We therefore urgently appeal to all our viewers to donate to our Fighting Fund.
---
In The Socialist 22 January 2020:
---
Socialist Party news and analysis

Council cuts continue... So must the fightback

Protesting is not terrorism

End climate change, end inequality, end capitalism!

Capitalism fails NHS services in Liverpool: scrap PFI!

Them & Us
---
What we think

To win back working-class trust Labour must take the 'Liverpool road'
---
International socialist news and analysis

Eyewitness report: workers' struggle in France on the boil

France striker speaks: real, deep anger needs union strategy

Iraq - a brutal legacy of imperialist intervention

India: Huge general strike but a missed opportunity
---
Workplace news and analysis

Royal Mail workers to reballot for strike action

Renewing the left in PCS

A win against academisation in east London

Belfast Hovis workers' all-out strike

Westex strikers read the Socialist

Ealing tax office strike continues
---
Socialist Party reports and campaigns

Make a stand: set legal no-cuts council budgets

"If you think bus and rail services are crap, sign our petition to take them back"

Building Tamil Solidarity with youth and the unions
---
Readers' opinion

The Socialist inbox

Robert Burns: of the people, for the people
---
Home | The Socialist 22 January 2020 | Join the Socialist Party
Subscribe | Donate | Audio | PDF | ebook
---