Link to this page: https://www.socialistparty.org.uk/issue/499/3065
From The Socialist newspaper, 24 August 2007
Glasgow council workers' victory: United strike action wins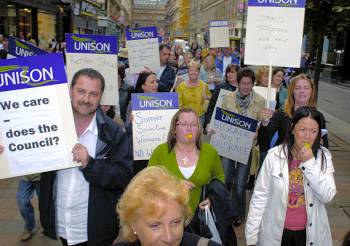 Glasgow Social Workers on strike , photo Duncan Brown
After 20 days of all-out, indefinite strike action, over 600 Glasgow social care workers won a clear victory. "Pay hike joy for striking council staff" was the headline in a recent issue of Glasgow's Evening Times. Jamie, a striking social care worker from the Gorbals area team summed it up: "There's no doubt this is a major victory."
Brian Smith, UNISON secretary Glasgow social work services, personal capacity
More than 600 workers have had their job upgraded to a wage of £24,200, without the need for any formal qualifications - higher than the rate on which some local authorities start qualified social workers. Negotiations on getting as many through as possible to the rest of the scale to £28,300 presents the next challenge.
For almost 400 workers, including those newly recruited, the deal means a wage increase of between £1,000 and £2,400 immediately. The 200 workers who were on 'protected' wages' as part of a pay and benefits review will now see their pay consolidated.
This comes shortly after another victory. In December 2006, 12,000 Glasgow UNISON members threatened to strike without emergency cover and stopped pay cuts for over 3,000 council workers. These victories show that industrial action can deliver improvements for workers and their families.
A mass meeting on 10 August, after three weeks of incredibly solid strike action, voted more than 3:1 in favour of accepting what was the council's third offer. Members stood and applauded together after the vote. There was a real sense of unity. Mick, from the Maryhill team, commented: "This is a great accomplishment. We got what we demanded".
The deal represents a clear victory against a hard-nosed employer. The council forced the strike but completely misjudged the mood of these workers and the support they would receive.
There are many lessons from this dispute. Firstly, the justice of the UNISON members' case was clear. Members will only endure the hardship and worries of strike action if they are clear about what they want.
Secondly, the UNISON branch and the stewards' committee communicated well with members. Emails, postal mailings, the branch's website and a "strike organising committee" that met every day at 11am were used effectively.
Thirdly, the 11am meetings allowed those members who wished to do more to come together and organise street collections, lobbies of the council, assist at workplaces that needed help with picket lines, plan publicity work, etc.
Mass meetings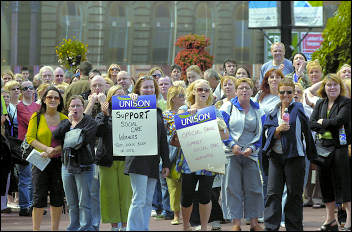 Glasgow Social Workers on strike , photo Duncan Brown
Lastly, and most crucial, were the twice weekly mass meetings. Many members commented on how important these were.
This victory will stimulate discussions within UNISON. It will give confidence to all workers battling over the implementation of the Single Status Agreement. The dispute has also raised with other social work departments and policy makers the issue of staff who do not possess the full social work degree (often referred to as "para-professionals") and what should they be paid. This has been a source of conflict for over three decades.
Members of the International Socialists, the Socialist Party's counterpart in Scotland, who also make up an active part of Solidarity - Scotland's Socialist Movement, played a key role in the strike. Two were part of the four-person negotiating team and played central roles in the mass meetings. Another chaired the daily 11am meetings.
Several other members of Solidarity were key in the organisation of the street collections which raised almost £20,000. Ruth Black, Solidarity councillor, was the first elected politician to speak at any of the mass meetings and was given a warm reception.
The strike was a success on many fronts. The stewards' committee and the wider branch must use the gains made to build for future actions, strengthen the union at its base by recruiting new stewards and encourage even more members to play a role in the democratic running of their trade union.
Why not click here to join the Socialist Party, or click here to donate to the Socialist Party.
---
In The Socialist 24 August 2007:

Stop climate change

Heathrow expansion protests

Thousands march in Tewkesbury
---
Socialist Party Marxist analysis

Social class in Britain today
---
Socialist Party review

The War on Democracy
---
Workplace news

Glasgow council workers' victory: United strike action wins

Postal dispute: If talks don't deliver - escalate the action

TUC conference fringe meeting

Belfast airport workers' victory
---
Socialist Party editorial

World economy fundamentally unsound
---
Socialist Party NHS campaign

NGH hospital Sheffield: Pay cuts "the thin end of the wedge"
---
Socialist Party news

Boris Johnson - buffoon or bonus for Tories?

Potty about Potter
---
Home | The Socialist 24 August 2007 | Join the Socialist Party
---