Housing: act now to cancel Covid crisis rents and debt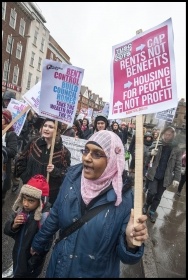 March for Homes, London, 31st January 2015, photo Paul Mattsson (Click to enlarge: opens in new window)
Suzanne Muna, Unite union housing workers' branch and Shac
Private sector rents in England hit a record high of £700 a month as the country headed into coronavirus lockdown, according to figures from the Office for National Statistics (ONS). Median rents in London were £1,425 per month. Six in ten renters have lost income in the pandemic, and arrears are mounting.
Tenant organisations are calling a day of action on Saturday 27 June to demand that rent be cancelled for the period of the crisis. This could prevent an avalanche of evictions when the current halt to eviction proceedings stops at the end of August.
Rent is already completely unaffordable, and tenants cannot afford back payments on top. Rent arrears built up during the crisis should be written off. "Can't pay, won't pay" is a fact, not just a slogan.
The London Renters Union (LRU) plans socially distanced protests and online events. In solidarity with the LRU, which represents private tenants, the Social Housing Action Campaign (Shac) intends to use the day of action to highlight the plight of housing association tenants. Shac was set up to unite people living and working in social housing or cooperatives to campaign on issues of common concern.
There is just no excuse for housing associations to initiate evictions on the basis of inability to pay. Before the pandemic, the sector was in excellent financial health, generating significant profits from rents and sales over a prolonged period.
Operating margins were at 25% on social housing lettings alone, and rent collection rates were 99.9%. Shac therefore demands that housing associations waive rents for those struggling financially, write off arrears, and avoid making evictions, even when courts reopen.
The size and finances of housing associations vary widely, and some co-ops and smaller associations will inevitably have tight margins. For these organisations, we should look to the government to underwrite housing association debt, as they did for the banks after the 2007-08 crash.
The government readily dipped into the public purse to provide a bailout of around £750 billion, including around £37 billion for RBS, Lloyds TSB and HBOS. This effectively nationalised the debt while allowing the banks to continue operating as distinct entities, retaining their own governance structures.
The same model could be used to support struggling associations and co-ops. Given the loss of social mission in the sector, any assistance must be bound to an increase in the democratic involvement of tenants, residents, and workers in the 'governance' (running) of the organisation.
The town of Ithaca in New York state has passed a resolution calling for the power to cancel rents to prevent a social catastrophe. Labour councils in Britain could do the same, and provide legal support to tenants fighting eviction. They should also implement a policy of cancelling rent during the crisis for council tenants.