Link to this page: https://www.socialistparty.org.uk/issue/1097/31139
From The Socialist newspaper, 5 August 2020
NHS pay: 15% for all now
Trade unions must fight
Beth Webster, nurse, Cardiff West Socialist Party
NHS workers are infuriated that many of us are not receiving decent pay increases this year.
We remain in the middle of a gruelling battle against Covid-19, and are facing a second wave, yet still we have to struggle to afford the basics. We've had enough. A national day of action has been called with protests in over 30 towns and cities on 8 August.
The government's excuse for leaving nurses, porters, junior doctors, cleaners and other essential workers out of the pay deal is that we are already tied into a three-year deal. But that is a below-inflation 'rise' and many NHS workers have seen their wages cut by 20% in real terms since 2010.
With over 42,000 nursing vacancies in England and Wales, a recent Royal College of Nursing poll showed a third of nurses are considering quitting, and low wages are the main reason. Some nurses were using food banks even before the pandemic, and the Covid crisis has thrown up extra costs for health workers, such as childcare.
Some nurses I work with are facing £600 and more a month in childcare costs as their parents are shielding and unable to help. So we are not calling for a decent pay rise because we deserve it (although we do!) but because we need it.
Added to the financial strain has been the physical and psychological toll on health workers. Around 540 health workers have died during the pandemic - the highest number in Europe and third-highest in the world.
We experienced PPE and equipment shortages, were redeployed to unfamiliar and incredibly stressful areas, and separated from loved ones to protect them. We looked after other critically ill health workers in, at times, inadequate PPE, worried we'd be next to get ill.
Little seems to have changed to prevent these things happening again in a second wave. We remain under immense pressure as we restart services while keeping patients safe.
We urgently need to take action. The Thursday claps showed we have fantastic public support, but the actions of the government since prove that's not enough.
We need to get ourselves organised. The leaders of our unions have bitterly disappointed us, but some branches with combative members and reps have won safer conditions for members during the pandemic.
If we want to continue the fight beyond the protests, we must turn all union branches into fighting ones. The travesty of our union leaders backing a below-inflation deal can't happen again.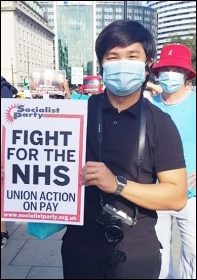 Protest march in London, for a 15% pay increase for healthcare staff, 29.7.20, photo Isai (Click to enlarge)
The grassroots NHS pay campaign calls for our unions to immediately reopen pay talks, for a fully funded 15% pay rise for all NHS workers, and for mass union meetings to engage members in the pay battle and prepare for industrial action.
There are concerns among NHS workers that we can't ask for pay rises while others are facing wage cuts and redundancies.
But we shouldn't have to choose between decent wages for us or jobs for others. The money is there to fund our pay rise.
For example, the Welsh government gave nursing agencies £69 million last year. Nurses often work agency shifts on top of their full-time NHS hours to top up their wages, or because they need flexible hours for their families.
But NHS 'bank' work doesn't pay enough. Why not use that money to raise NHS nurses' wages and ensure flexible working is available within the NHS?
It's not money that's lacking, it's political will. We should link up with other workers and fight all wage cuts and redundancies in both the public and private sector.
There are also concerns that if we need to take industrial action, it will negatively impact patient care, but look how it's being impacted now when we don't take action!
Fightbacks
Nurses struck in Ireland last year for better wages. Home carers in Birmingham and Glasgow have won strikes in recent years for fair wages. Lewisham hospital workers successfully struck at the beginning of the pandemic in a wage dispute with an outsourcing firm. All these enjoyed huge public support.
The coronavirus pandemic and the fight for fair pay have raised other vital issues. The care sector crisis shows a nationalised care service is long overdue. It has highlighted the dangers of privatisation, with private firms refusing to provide PPE for their workers.
It has also highlighted huge inequalities such as racism within the NHS and wider society: around 60% of health workers who died were black, Asian and minority ethnic.
This battle is about more than pay. Our experiences in the pandemic show that we cannot leave the NHS and social care sector in this government's hands.
But we cannot leave the pay battle in our current union leaders' hands. Look at the courage lay members have shown during the pandemic: these are the people we need at the head of our unions and our NHS.
We need public ownership, and democratic control by health workers and communities, of health and social care. These protests are only the beginning.
A socialist programme for the NHS should include:
An immediate 15% pay rise for all health and care staff including those in privatised sectors Minimum wage of £12 an hour - £15 in London. Scrap zero-hours contracts immediately
Reverse all privatisations. Scrap the 'Private Finance Initiative' and cancel all PFI debts
Bring all outsourced workers and services in-house on a permanent contract
A fully publicly funded NHS and care system, free at the point of use. Scrap prescription charges in England, dental charges and all health charges
Nationalise the private healthcare sector, care homes, the medical supply industry and the pharmaceutical companies - integrate them into the NHS
Reinstate student bursaries and scrap tuition fees in England
We can't trust pro-privatisation, pro-austerity, anti-working-class politicians
Fight for the building of a new mass workers' party
Unite and fight the institutionalised racism of the bosses. Black Lives Matter!
A socialist NHS - democratically run by elected and accountable committees, including service workers and users
A socialist planned economy to end oppression, poverty and inequality
---
Hugo Pierre, Unison national executive committee (personal capacity) and Socialist Party member:
Full solidarity with the day of action! Seeing the government crow about its 'pay increase' for certain areas within the public sector will stick in ordinary working-class people's throats. Figures of 3.1% and 2.8% for teachers and doctors do little to meet the pay freezes the Tories have overseen over the last ten years.
To top it off, despite the fake support from Johnson and his Tory cronies for the NHS, hard-working nurses, carers, lab technicians, physiotherapists and other staff have been told they're not getting a pay rise.
Using the fake claim of a pay rise with regards to the previous three-year pay deal flies in the face of reality for NHS workers. The last ten years have seen a real-terms 20% pay cut with a frequent comment from staff being 'can I pay the bills with claps?'
I will be campaigning for the union to lead mass action and demand fully funded raises now. There should be an immediate 15% pay rise for all health and care staff, rewarding the key workers who've kept us going in the face of the Covid crisis.
Donate to the Socialist Party
Finance appeal
The coronavirus crisis has laid bare the class character of society in numerous ways. It is making clear to many that it is the working class that keeps society running, not the CEOs of major corporations.
The results of austerity have been graphically demonstrated as public services strain to cope with the crisis.
The government has now ripped up its 'austerity' mantra and turned to policies that not long ago were denounced as socialist. But after the corona crisis, it will try to make the working class pay for it, by trying to claw back what has been given.
The Socialist Party's material is more vital than ever, so we can continue to report from workers who are fighting for better health and safety measures, against layoffs, for adequate staffing levels, etc.
When the health crisis subsides, we must be ready for the stormy events ahead and the need to arm workers' movements with a socialist programme - one which puts the health and needs of humanity before the profits of a few.
Inevitably, during the crisis we have not been able to sell the Socialist and raise funds in the ways we normally would.
We therefore urgently appeal to all our viewers to donate to our Fighting Fund.
---
In The Socialist 5 August 2020:
---
News

NHS pay: 15% for all now

From first wave to second? Capitalism's Covid failures

Capitalism's 'vaccine war' shows need for socialist cooperation

Tories' obesity plans - blaming individuals not the profit system
---
What we think

Labour payouts: unions must discuss political representation
---
Workplace news

Wales: GE Aviation workers march to save jobs

PCS union: Reject longer DWP opening hours

'First you clap us then you slap us': hundreds march for NHS pay rise

Sick pay victory at Homerton hospital!

Unite union branch pledges to support socialist candidates who oppose cuts

Oppose BT site closures - national strike ballot needed

Workplace news in brief
---
No going back

What would socialist universities look like?
---
International

Cuba: Covid-19 and the 60-year-old embargo

Anniversary of nuclear destruction of Hiroshima and Nagasaki

80 years since the murder of Leon Trotsky rally
---
Campaigns

A-level results day 2020: Fight for our future!

Fighting to end racism and capitalism

North London: Socialist Party speaks at BLM protest

Young Socialist day of action

Doncaster: Vigil for murdered women

Engage for Change Hull - trade union youth festival goes online

Campaign stalls on jobs, pay, NHS and racism

Why I joined - Covid changed my outlook

Socialist Party meetings: Online and in-person

The Socialist summer schedule
---
Home | The Socialist 5 August 2020 | Join the Socialist Party
Subscribe | Donate | Audio | PDF | ebook
---