Link to this page: https://www.socialistparty.org.uk/issue/502/3133
From The Socialist newspaper, 20 September 2007
Remploy workers fight for jobs
"If need be, we will take this attitude to the battlefield and with this attitude, we will win"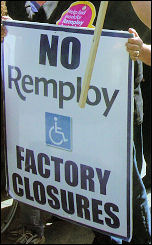 Remploy workers rally against closure threat, photo Chris Moore
Over 2,500 workers in 43 factories will see their jobs axed before the end of the year, if government plans to "restructure" Remploy go ahead. Another 2,500 jobs would go within three years. Remploy has 83 factories with 5,000 workers across Britain.
Socialist Party Wales
There's a myth that Remploy workers "pack nails into boxes". In fact, Remploy workers produce wheelchairs for the NHS, furniture for Education Authorities and protective gear for the MOD. They do data cleansing for the civil service. They assemble powertrains, braking systems and chassis for Ford, Toyota, Nissan, Peugeot, etc.
Shop stewards and members have been campaigning hard to build a fight back and stop the closures. GMB shop stewards in Porth have organised a Wales-wide Remploy shop stewards' committee. They've built a campaign fund. They've campaigned for a "yes" vote for strike action. Like Remploy stewards throughout Britain, they've tried to get the truth out about the government plans.
Neil Prosser, Remploy GMB Shop Steward at Porth in the Rhondda, told the socialist: "A whole number of contracts are up for renewal over the next year. There's a £25 million contract to supply nurses' uniforms to the NHS, which Remploy could do. It is currently split between four private companies with most of the work carried out overseas. There are over £100m of MOD contracts coming up.
"Remploy have been so successful over the years, because members support one another. If one person is only capable of giving 70% of effort, the person next to him will give 130%. In the same way, factories like Porth that aren't up for closure are supporting the ones that are. If need be, we will take this attitude to the battlefield and with this attitude, we will win".
---
>
On the campaign crusade in Lydney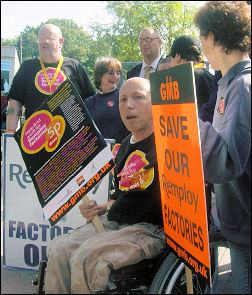 Remploy workers rally against closure threat, photo Chris Moore
The GMB, Unite (Amicus), Unite (TGWU) and Community trade unions 'Crusade' to save Remploy jobs is visiting all 43 factories under threat of closure, while members are balloted for strike action. Chris Moore spoke to some of those involved during the rally at the Park End factory near Lydney in Gloucestershire.
Chris Moore, Gloucestershire Socialist Party
Paul Bragg, senior GMB shop steward at Remploy's Birkenhead Central Cutting Unit, said:
"In 2005 the government did a National Audit Report identifying three million people claiming Incapacity Benefit, with one million to come off and into open employment. Remploy saw an opportunity to make money by becoming an employment agency.
"They plan to open 43 'One Stop' agencies and think they can get 20,000 workers off Incapacity Benefit."
Paul explained that Remploy have set aside £171 million for this project, to be taken from their government subsidy of £555 million over five years. A pensions deficit of £48 million is also coming out of the subsidy: "So that's why they want to close the factories."
Remploy management are clearly prepared for workers to pay for New Labour's policy of bringing the market into the public sector. So a firm that has employed disabled people since 1945 will become part of the apparatus attacking those who claim Incapacity Benefit.
Remploy's chief executive Bob Warner claims there will be no compulsory redundancies, with jobs being found for disabled workers on the open market on the same terms and conditions.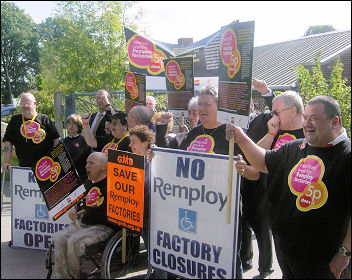 Remploy workers rally against closure threat, photo Chris Moore
But as Paul Bragg says: "This is a red herring, because if no suitable jobs can be found you'll be pushed out anyway. In Cross Fields (a sheltered employment for disabled workers in Croydon), 87 people were made unemployed by a Labour-run council, only 15 have found low-paid, low-skilled jobs. The unemployment rate in Croydon is 1.5%, so if you can't find jobs in that area what chance elsewhere? People will end up on the Incapacity Benefit roundabout. Also Remploy work a 35-hour week at least £1 above the minimum wage, which won't be possible in outside employment."
Remploy claims that it is not cost effective to employ disabled people, saying it costs £20,000 per worker. But if disabled workers are left to the brutality of the market, those that manage to find work will only experience capitalism's wage race to the bottom.
Many Remploy factories have been run down, yet Bob Warner got a 42% wage increase to £143,000. The company employs 480 senior managers on salaries of £40,000 and over, that's one for every ten disabled workers, who earn around £14,000 each.
Butch Parry (GMB shop steward at Park End) and 20 years at Remploy said: 'They've said we will stop trading on 31 December 2007, we don't know if we've got a job to go to after that."
Kevin, a Remploy worker for over 19 years added: "We're all fed up, we've been fobbed off. We're some of the lowest-paid workers I take home £190. When we've had a pay rise it was amalgamated into our bonus. We've hardly had a rise over two and half percent."
A 'yes' vote in the strike ballot being conducted at the moment is vital for all Remploy workers. If the planned closures go ahead it is likely more will follow in the future.
Donate to the Socialist Party
Coronavirus crisis - Finance appeal
The coronavirus crisis has laid bare the class character of society in numerous ways. It is making clear to many that it is the working class that keeps society running, not the CEOs of major corporations.
The results of austerity have been graphically demonstrated as public services strain to cope with the crisis.
The government has now ripped up its 'austerity' mantra and turned to policies that not long ago were denounced as socialist. But after the corona crisis, it will try to make the working class pay for it, by trying to claw back what has been given.
The Socialist Party's material is more vital than ever, so we can continue to report from workers who are fighting for better health and safety measures, against layoffs, for adequate staffing levels, etc.
Our 'fighting coronavirus workers' charter', outlines a programme to combat the virus and protect workers' living conditions.
When the health crisis subsides, we must be ready for the stormy events ahead and the need to arm workers' movements with a socialist programme - one which puts the health and needs of humanity before the profits of a few.
Inevitably, during the crisis we have not been able to sell the Socialist and raise funds in the ways we normally would.
We therefore urgently appeal to all our viewers to donate to our special coronavirus appeal.
---
In The Socialist 20 September 2007:

Nationalise the banks

Economy hits a rock

Crisis will hit north east jobs

Time for a new party
---
Socialist Students

Fight for a living grant

What do youth think?

Student Socialist: Issue 5 out now!

Studying on a low wage

Flexible hours? Suits you sir!
---
Socialist Party NHS campaign

NHS: Our message to Labour

Swansea - no more cuts for cash
---
Socialist Party news

Victory! Campaign saves nursery

Medway schools

Lobby demands asylum for Sadiq
---
Socialism 2007

Socialism 2007

Make Socialism 2007 an unforgettable weekend
---
TUC Conference

TUC conference: Workers defy Brown

Linking the struggles together
---
International socialist news and analysis

Egypt: Worker militancy shows pressing need for political voice
---
Socialist Party review

Consumed: How markets corrupt children, infantilise adults and swallow citizens whole
---
Workplace news and analysis

Remploy workers fight for jobs

Defend the Burslem 12

CWU: Further national action discussed
---
Home | The Socialist 20 September 2007 | Join the Socialist Party
---