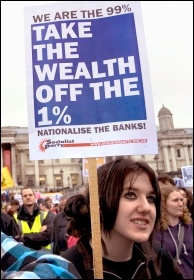 We are the 99% – Take the wealth off the 1% Socialist Party placard, photo Paul Mattsson (Click to enlarge: opens in new window)
Steve Score, Leicester Socialist Party
"We are really not all in this together. It is far worse for some than for others." It could be a quote from any of the millions of working-class people whose living standards have been hammered by Covid lockdowns and economic crisis. But actually it was from a Bank of England policymaker.
Predictions of another pre-Christmas slump in the economy after the newest lockdown restrictions, a "double dip recession", will hit jobs and living standards further despite the Tories' U-turn on extending the furlough.
The huge economic rollercoaster over the course of a few months during this year is still expected by the Bank of England to leave the economy 11% below where it started.
While the world's billionaires increased their wealth by 27% in the three months to July this year, it's a different story for working-class people. A Save the Children survey found 60% of families on Working Tax Credit or Universal Credit had cut down on food and other basics during the pandemic. Tens of thousands of people in this country have become homeless, despite a temporary ban on evictions.
Hundreds of thousands have already lost their jobs. Yet a new survey of companies shows 30% are planning further redundancies before the end of the year.
Economic crisis
Clearly, Covid sparked and exacerbated the economic crisis. But the fact that 22% of firms were planning job cuts even before the virus got to the UK indicates that recession was already on its way. Capitalism itself causes crises, and cannot guarantee the jobs and living standards or the health of the majority of society.
There are huge hopes in a potential new vaccine, which eventually could mean the lifting of Covid restrictions. But, even if it proves to be effective and is rolled out quickly to all, it will not mean the crisis of living standards being solved.
A battle led by the trade unions, mobilising their nearly seven million members, must be launched to raise the minimum wage to £15 an hour, to nationalise firms threatening redundancies, and defend jobs and living standards.
The capitalist profit system is sick and needs to be replaced. A movement must be built to fight for socialism – a society where production is planned and existing wealth is used for the benefit of all. Join us in the Socialist Party in that fight!