Tens of thousands of people, across dozens of towns and cities in England and Wales, flooded onto the streets on Saturday 15 May to express their outrage and indignation at the horrific crimes of the Israeli state. Similar protests were taking place globally. Members of the Socialist Party joined the protests, putting forward our socialist programme and inviting people to attend our public meetings to discuss the way forward. Our members participated in protests in London, Cardiff, Leeds, Birmingham, Southampton, Newcastle, Liverpool, Manchester, Bristol, Coventry, Oxford and other towns and cities. In all these protests we met people wanting to support working-class unity and a mass, democratic struggle for the genuine national liberation of Palestinians and a socialist Middle East.
London
Thousands of people attended a demo in London on 15 May to show solidarity with the Palestine population experiencing brutality at the hands of the Israeli state. Estimates have put the number of people attending the protest at over 100,000.
The march was full of impassioned chanting, a sea of placards and banners from a range of organisations, and the occasional coloured smoke flare set off. The protest started at Marble Arch before marching towards the Israeli embassy in South Kensington. However, due to the vast size of the protest, the majority of people had to remain along Kensington High Street.
The Socialist Party had a number of gazebos and stalls at the beginning of the march, as well as joining the demo equipped with a sound system and megaphone. Both before and during the demo, members of the Socialist Party distributed leaflets outlining our analysis and programme, alongside selling placards and copies of the Socialist newspaper.
Chris Newby from Hackney Socialist Party had this to say about the demo: "The streets around Hyde Park were taken over by a lively, mainly young, demo. It was so big that most protesters couldn't get anywhere near the Israeli Embassy. The demonstrators were keen to hear our socialist message. Our Socialist Party leaflets were snatched out our hands, as were our placards".
The workers' movement has a strong history of supporting struggle internationally, and there were left-wing groups and trade unions present. It was a positive feature that a number of Jewish groups marched alongside Palestinians and others.
Our leaflets explained the need for an independent, democratic socialist Palestinian state, alongside a democratic socialist Israel.
Ben Goldstone, West London Socialist Party
Southampton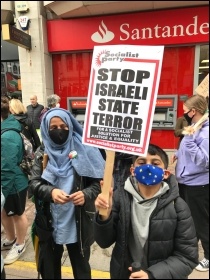 Stop war on Gaza! Demonstrating in Southampton, 15.5.21, photo Southampton SP (Click to enlarge: opens in new window)
Hundreds of people filled the streets of Southampton to stand in solidarity with those living and dying under the Israeli occupation of Palestine. We marched from Bargate to the Guildhall in a long column, chanting "Free free, Palestine!", and "One-two-three-four, occupation no more! Five-six-seven-eight, Israel is a terror state!"
There were speakers from many different groups and individuals, and Socialist Party members were there handing out flyers, placards, and selling the Socialist newspaper. We marched behind our Young Socialists banner.
Protests just like this one were happening across the country, including actions obstructing Elbit facilities, an Israeli-based company that manufactures and deals weapons including drones, surveillance satellites, and 'electro-optics systems'. The British government cannot wash its hands of this situation, nor pretend to be 'impartial' when it continues to allow Elbit to operate in the UK.
We cannot rely on capitalist governments to act in the interests of the Palestinian masses. We need to continue to build an international movement in solidarity with mass protests in Palestine.
Dana King, Southampton Socialist Party
Birmingham
On Tuesday 11 May, a protest was called outside of Waterstones in the heart of Birmingham's shopping district to address the ongoing atrocities in Palestine. While this demonstration was called with little notice, a contingent of Socialist Party members was able to attend with leaflets and petitions.
The protest itself pulled a large crowd, managing to block almost the entire street in a flurry of flags and placards, which only grew as the event went on. Throughout the protest there was a continuous stream of impassioned speakers with powerful messages.
Richard Gingell, Birmingham North Socialist Party
Liverpool
"Palestine will be free!" and "BBC shame on you!" were the slogans chanted by the more than 500 people who rallied in Liverpool city centre against the most recent round of attacks on Palestinian civilians by the Israeli army.
The largest and most youthful demonstration in Liverpool in support of Palestinians for some time, the march was adorned by banners, flags and placards demanding an end to the Israeli-state slaughter in Gaza. As we marched through the city centre, protesters received a warm reception from the general public.
Our Socialist Party stall, which we set up earlier in the city centre, saw many people sign our petition and show an interest in our material.
At the end of the march, an open-mic rally allowed anti-war voices – including a member of Liverpool Trade Union Council, and a representative from a Palestinian trade union organisation – to express support for Palestinians, and fury with the Israeli regime and the imperialist governments who have helped to arm it. These speakers urged all present at the rally to take the fight for Palestinian liberation into the trade unions.
Speakers who advocated joint protests of Jews and Arabs against the Israeli regime – including joint action and another Intifada to end the occupation – received particularly warm reactions. As did those who highlighted the bias in the BBC's reporting on the conflict. It did not go unnoticed that no one from the BBC bothered to come out to report the rally.
Alex Smith, Liverpool Socialist Party