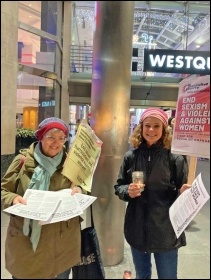 On the Southampton protest over violence against women
Southampton
The Socialist Party decided to mark international day for the elimination of violence against women on 25 November by organising a protest in the city centre. We wanted to be loud and we wanted to be visible.
20 people turned up to our protest, and some passers-by were eager to take our leaflets and stopped to share their own experiences.
Unfortunately, we were dwarfed by the noisy Christmas market, so speeches and taking a moment of silence was out of the question.
Thankfully, we'd organised a public meeting close by, so people had the chance to discuss what we could do to combat sexism and violence against women. It was a real education.
University students described just how widespread drink spiking had become. They were keen to organise and demand change.
The experiences of trans women were raised in the discussion, and how likely they are to be attacked in the street or in clubs as they are seen as 'fair game' by misogynist perpetrators.
It was an emotional discussion. Clubs and the police are not taking incidents seriously enough – echoing outdated ideas of women 'asking for it' by how we dress and how we behave.
We discussed the many tough choices women have to make under this rotten system; how some women are forced into sex work out of poverty, or stay with a violent partner because there's nowhere else to go due to cuts to refuge provision and a dire lack of decent truly affordable housing.
We fight for every improvement to women's lives. Capitalism is rotten to the core and needs to be swept away by uniting our class for socialist change.
Maggie Fricker
---
Bristol
The Socialist Party joined a very noisy and lively Reclaim the Night March in Bristol to mark the international day for the elimination of violence against women.
Around 200 people marched through the centre of town, passing many bars and pubs to draw attention to the recent rise in cases of spiking against women. The Socialist Party was very noticeably the only political organisation to attend, and a few women enthusiastically held up our posters as we marched.
Amy Sage
---
Nottingham
Over 250 mainly young women marched on 27 November with Reclaim the Night. They were noisy, enthusiastic and got a lot of support from passers-by and car drivers sounding their car horns.
Nottingham and the university have recently had a number of spiking incidents. In a society where only 7.4% of reported rapes get to court, and only 1.4% get convictions.
Rape and sexual assaults are severely underreported. There is a lot to do to make women safer.
We handed out our Socialist Party 'End sexism and violence against women' leaflets and carried our posters. Women snapped up the leaflets and asked for them when they read the poster.
There is clearly a thirst for a programme to end violence, sexism, inequality and abuse, and to do this once and for all. To do that, we need to get rid of capitalism and fight for socialist change.
Clare Wilkins