And make it fit for the future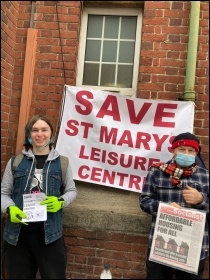 Campaigning in Southampton. Photo: Nick Chaffey
Nick Chaffey, Southampton Socialist Party
Southampton Council says its priority is our health and wellbeing, but it seems St Mary's can do without. During the pandemic, poor health and poverty have been key causes of serious health complications and death. Access to leisure is a lifesaver.
Council cabinet member John Hannides says St Mary's Leisure Centre (SMLC) must close because "the condition of the building will require significant repair". Isn't it the job of the council to run and maintain services we have built and paid for over the years, and secure them for the next generation?
Solent University paid the council to use the leisure centre. Was this money used to maintain it? Why not keep it open and make it fit for the future?
Councillor Hannides says he wants "modern, accessible facilities". What is old-fashioned about the weights room, squash courts, climbing wall and sports hall at St Mary's? How is it inaccessible?
Hannidies says: "There is not enough use". But has he stopped for a minute and asked himself why?
For ten years, Solent University dominated use of the centre. Having left, what has the council done to rebuild community use?
How has Covid impacted leisure centre use? Thousands have used St Mary's over the years, and will do if it is kept open.
This council is fast becoming an asset stripper, shutting down services, selling land to developers for housing no one can afford, or office blocks no one can fill.
We are constantly paying more and getting less. That is unless you're a property developer, or a billionaire getting tax breaks, tax cuts and government contracts.
Council cuts must stop. We need a council that will develop community facilities, provide affordable council housing for all, care for the elderly, and youth centres. Restoring the £160 million a year in grants stolen from Southampton by central government since 2010 would provide much of the resources we need to get the job done.
We have fought successfully in the past to keep St Mary's Leisure Centre open. We will now do so again.
Join the campaign today. Contact 07833 681 910 for more information.