Socialist paper is my weekly antidote to press barons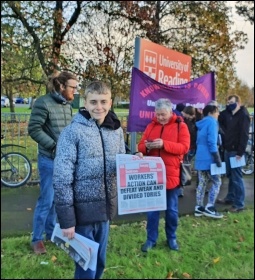 Adam selling the Socialist at UCU picket lines in Reading
I was overwhelmed when my hopes for united workers' action against the Tories failed after the last general election. I was thinking 'there is no future for a workers' party in England'.
I attended Pride with my branch of public sector union Unison. There I found out that Paul Couchman, my Unison branch secretary, was a Socialist Party member.
A brief discussion later, now I am a proud Socialist Party member. I can't wait to read the Socialist paper every week, and hear an alternative to the manipulation of the mass media by press barons like Rupert Murdoch, Richard Desmond, Viscount Rothermere, the Barclay Brothers and others.
The Socialist is a brilliant paper. It doesn't hide the truth of workers' struggles or the reality of Tory government attacks on working-class people. I am also going to get more active in the union and become a workplace rep.
Ioannis Kouratos, Staines Socialist Party
My whole life has been a series of capitalist crises
I joined the Socialist Party after reading our 'what we stand for'. I liked demands such as nationalisation with democratic workers' control and management, and I could see capitalism's inability to solve any crisis, because of its aim of short-term profit.
I realised that we need a new socialist system, where profit is not the main driving factor, and human need comes first. My whole life has been one major crisis after another – 2007-08 financial crisis, the pandemic, climate change.
I see capitalism barely scraping along, and making the working class pay for it all. Joining the Socialist Party sounded logical to me.
Adam Gillman, Reading Socialist Party