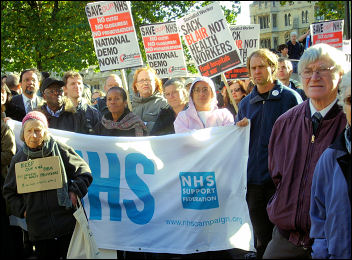 The PUSH NHS demonstration in 2006 called for a national demonstration, photo Sarah Sachs-Eldridge
A dizzying array of cuts and privatisation, in the name of modernisation and reform, has been thrust upon the NHS since New Labour came to power in 1997. This has left staff reeling and patients suffering the consequences of a service increasingly run in the interests of profit for the private companies involved.
Dr Jackie Grunsell, Save Huddersfield NHS councillor
The government has just announced an extra 4% a year increase in NHS funding for the next three years. This is much less than the 7.2% the NHS has been getting annually since 2002 and even below the miserly 4.4% recommended by the Wanless review earlier this year.
Hamish Meldrum, chairman of the British Medical Association has warned the money should not continue to be squandered on "costly and poor value" deals with the private sector where he said "profits are often rated higher than patients."
The government itself has had to recognise some of the problems of using the private sector.
They have announced the cancellation of a third round of independent sector treatment centres (ISTCs) and only a minority of second round contracts are expected to go ahead. This is because these centres did 50,000 less operations than expected last year with Primary Care Trusts (PCTs) effectively paying out for work that has not been done. A win-win situation for the private companies running the centres!
Despite this caution, one of health minister Alan Johnson's first moves has been to offer contracts worth £70 billion to a possible 14 private companies who will then 'help' PCTs commission services. Four of these companies are big US health insurers.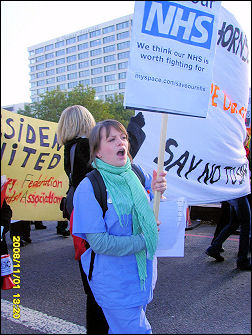 The PUSH NHS demonstration in 2006 called for a national demonstration, photo Sarah Sachs-Eldridge
Next April the Department of Health will introduce 'free choice' for patients at any hospital prepared to treat at NHS prices. With this in mind they are advertising for new suppliers of operations and diagnostics. The recently published report by Lord Darzi (health minister) also wants to bring new providers in to help extend GPs' opening hours. It's not difficult to imagine how 'traditional' GP practices could be forced to reform or die when in competition with privately run polyclinics. But such clinics are likely to be more costly and require patients to travel further to access basic services.
So what are the consequences of all these reforms for real people, experiencing real health problems in the real world? We don't have enough midwives to provide even minimum recommended standards for safe childbirth and 90 people are thought to have died due to infection with superbug, Clostridium difficile in a Kent hospital. Unfortunately there are many more statistics pertaining to real suffering I could use.
When we 'celebrate' what we call the National Health Service on Saturday 3 November in reality this is already a fractured collection of locally run services. Urgent action is needed to save it from being broken beyond repair.
Health campaigns across the country have already waited too long for this demonstration, whilst watching local services be dismantled and sold off.
To save our NHS this protest has to be a call to further action, a springboard for more serious campaigning by the health unions to build towards industrial action, including strikes, in defence of the NHS.