HARDLY A day passes without a new report on global warming and environmental destruction publicised in the media.
Dave Carr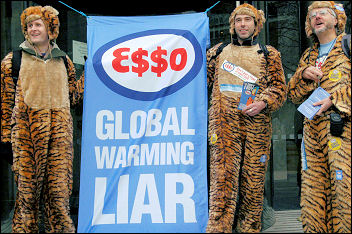 Climate change demo December 2005, photo Paul Mattsson
Earlier this year the International Panel on Climate Change (IPCC) bleakly concluded that billions of people face shortages of food and water and increased risk of flooding as a result of global warming.
A study only last week in the Proceedings of the National Academy of Sciences reported a dramatic decline in the ability of the planet to absorb man-made emissions of carbon dioxide (CO2) and a corresponding acceleration in the rate of increase of greenhouse gas in the atmosphere.
Typically the people most affected by this anticipated climate change will be the world's poorest in Africa, East and Southeast Asia. However as Hurricane Katrina and the recent Californian fires in the US indicate, an increase in frequency of extreme weather events due to global warming also threatens people in the 'advanced' capitalist countries.
Faced with such environmental chaos the big questions – such as, who is responsible? And, how can the looming disaster be averted? – remain unanswered by the likes of George Bush, Gordon Brown or the regime in China.
At this year's socialism event environmental activists, trade unionists and socialists will have the opportunity to debate such issues and hammer out a programme of action. There will be a key debate (see advert) on the way forward to save the environment between a representative of the Socialist Party and a spokesperson from the Green party.
Many in the Green movement argue that the way forward is for everyone to reduce their 'carbon footprint' and to strengthen international agreements like the Kyoto protocols. But can our individual efforts at energy conservation offset the emissions from industry, and can a commercial carbon tradings scheme between countries work to reduce CO2 levels?
More than a decade ago the Socialist Party pointed out that the total amount of greenhouse gases produced by the burning of oil flares in Nigeria by Shell oil is greater that that caused by all the electricity used by every household in Britain. It's the world's big industries and commercial companies, which operate to maximise profits for a rich elite, who are largely responsible for pumping out huge quantities of greenhouse gases.
And it's these economic oil giants, big manufacturers, energy generators, major transport operators, agribusiness, chemical plants – in short, capitalist industry – which mould the policy agendas of the world's political leaders.
After all, George Bush (who until recently was deliberately in denial of a causal link between rising CO2 levels and climate change, and who has refused to sign up to any binding international treaty on emissions), gained control of the White House, having himself made a fortune in the oil industry and received hundreds of millions of dollars in donations from big business.
Gordon Brown, who claims to embrace controls on greenhouse gas emissions, is failing to curb them and the UK government will fall far short of its own modest target on CO2 output. Moreover, behind the scenes Brown is trying to water down the target of achieving 20% of Europe's energy requirements from renewable sources by 2020.
Brown reckons this target is too expensive for business and wants to persuade the other EU countries to renege on these moderate targets. Instead of increasing renewables substantially Brown wants to push ahead with more nuclear power plants, – which are vastly expensive to the public purse but highly profitable to the industry – despite concerns over increased radioactive waste and potential accidents.
In the capitalist world economy the environment and satisfying the basic human needs come a distant second to the profit motive. Only a system that rationally used resources, based on international cooperation between countries, can save the planet. Come along to socialism, join in the debate and hear the full arguments.
---
Socialism 2007 debate
Socialist planning – could it save the planet?
Pete Dickenson, Socialist Party author of 'Planning Green Growth' and Jenny Jones, Green Party London Assembly Member
---
Campaign Against
Climate Change demo
Saturday 8 December
Assemble: Millbank, Westminster, London SW1, 12 noon.