Link to this page: https://www.socialistparty.org.uk/issue/510/3399
From The Socialist newspaper, 14 November 2007
Anger on the building sites
CONSTRUCTION WORKERS are facing an increasing number of problems. On the construction sites, anger is reaching levels similar to those before the national strike five years ago.
In the following articles HUGH CAFFREY looks at some of the biggest questions for construction workers.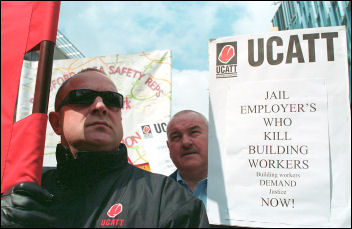 Protest against lack of safety on building sites, photo Paul Mattsson
HOW MANY more workers will die at work while those to blame get away with it? In Manchester, campaigners are fighting to hold these directors of death to account. Families Against Corporate Killing (FACK) and the bereaved parents of a young construction worker held a vigil outside Manchester Crown Court on 6 November.
Inside, the trial began of Mowlem PLC (main contractor) and David Swindells (contract manager for site employer 3D Scaffolding Ltd) on health and safety charges.
Trainee scaffolder Steven Burke was 17 when he died from a 10-16 metre fall at work. FACK says the Health and Safety Executive (HSE) inspection found "errors in the method of construction of the scaffolding… which included failure to complete platforms and secure ladders on the way up, lack of guardrails and toe-boards… inadequate safety harnesses and inadequate supervision…
"In the opinion of an HSE scaffolding expert, there were 2,500 too few scaffolding poles used and many less boards than necessary." Had the scaffolding been constructed properly, they say, Steven would not have made the dangerous climb from which he fell to his death.
In the last year, ten workers have died and 1,868 workers were seriously injured at work in Greater Manchester, many of them on construction sites. Booming construction industry profits are paid for by workers' lives and limbs.
Young workers are especially at risk, being seriously injured at work every 40 minutes. The HSE says up to 80% of deaths and major injuries are caused by employer negligence. Yet legal enforcement of laws, prosecution and conviction of employers, and funding of the HSE, have all fallen.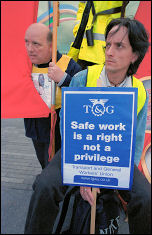 Workers protest at lack of safety on building sites
The government and courts are helping employers get away with murder. At the 2young2die vigil for Steven, Lyndsey Herbertson, co-founder of FACK, told me: "The companies will probably get away with it. But the bigger picture is the massive effect deaths like this have on the families and for generations to come.
"After you've gone through something like this, you start to see health and safety laws broken every day in every walk of life. When you hear people talking about 'cutting red tape', the figures for the north-west alone (26 dead and 3,246 seriously injured in 2007 in the north-west – HC) show the real story. I times that by three or four because of the effect on families who no-one seems prepared to help.
"What we want to see are 'directors' duties', so they can't pass the buck through whole companies or filter the blame through management structures. Directors are big enough to take the profits, they should be big enough to take the fall when something like this happens.
"We're going to ensure Steven Burke's name keeps getting mentioned. We won't let people forget."
FACK demands changes in the law, so employers who negligently kill will be jailed for corporate manslaughter. It wants more inspection and enforcement of the law, and greater powers for workers and safety reps. FACK also wants families' voices heard in sentencing those convicted of work-related deaths equal to that for families at other manslaughter and murder cases.
---
>
We need a fighting union
"YOU'VE GOT to go!," enraged electricians told their national official at a Unite union meeting in Manchester on 3 November. Industry profits are booming, workers are being injured, killed, denied holiday pay and denied union rights. But their supposed representatives do little to counter this.
Earlier this year, Unite electricians voted to reject the employers' offer of a real-terms pay cut over three years. The employers wrote to union representatives on the Joint Industry Board, expressing surprise that they allowed workers to reject the offer! The bosses considered the union officials had signed up to the deal already.
For a fighting leadership, the offer's rejection would be a major opportunity to mobilise workers behind a demand for an end to casualisation, dangerous working practices, poverty pay and the race to the bottom. Bosses' attempts to de-skill the electrical trades could be defeated at the same time.
Instead a Unite national officer called a hand-picked meeting to accept the deal. Fourteen men, including a manager for notorious American multi-national Bechtel, over-ruled the democratic vote of thousands. The same officer also imposed de-skilling and even tried to bring employment agencies into the national agreement and scrap Rule 17 that stands for direct employment.
Rightly, workers demand that all employers' trade union stooges be replaced by democratically elected workers' representatives. After so many years of union dues being paid through the employers, often behind the workers' backs, the union does not know who its construction members are.
To comply with anti-union laws, in proving how many workers would be affected by industrial action, membership lists would have to be provided by the bosses!
Steve Acheson, sacked electrician on the Manchester Royal Infirmary site, told the socialist: "This cosy alliance with the bosses must end. They talk about 'protecting the union's assets' from sequestration, but the trade union movement's biggest asset is the membership.
"The ECA [electrical contracting employers' body] is calling the pay deal a 'debacle' that was 'hijacked'. It certainly was: hijacked by the employers when 14 handpicked men can sign a three-year deal against the wishes of a national ballot!"
Construction workers need a fighting leadership to defend their interests against the employers. No more stitch-ups! No more multi-year deals!
The downturn in the commercial property market will mean further attacks on construction workers. Before merging to form Unite, an Amicus conference voted for the election of all officials. This needs to be reinstated across Unite, so workers can elect convenors and full-time officials prepared to take on the employers.
Why not click here to join the Socialist Party, or click here to donate to the Socialist Party.
---
In The Socialist 14 November 2007:

800 attend rally to discuss 'Which way forward for the left in Britain?'
---
Socialist Party Marxist analysis

World economy: Bosses' crisis, workers pay

Editorial: Shattering confidence in world economy
---
International socialist news

Pakistan martial law

German train drivers strike

Release Nigerian students now!
---
Royal Mail

Royal Mail's deal: Not good enough - Vote NO!

Campaigners say: No Post Office closures!
---
Socialist Party news and analysis

Green activists seek solutions

Aiming to be rich

Review: Handsworth Revolution - Steel Pulse (1978)
---
Workplace news and analysis

Anger on the building sites

Save every Remploy job!

Birmingham council workers fight pay cuts

Cadbury's closure: Workers vote for action

Trade union news in brief
---
Socialist Party NHS campaign

NHS: Step up the struggle against privatisation

Manchester health workers

Tales from the council chamber
---
the socialist newspaper

Why you should read, write for and sell the socialist
---
International socialist news and analysis

USA: Enthusiastic response to socialist policies

Egypt's workers flex their industrial muscle

Belgium: Fighting attacks on education
---
Home | The Socialist 14 November 2007 | Join the Socialist Party
---